The future of the U.S. agriculture industry looks a little uncertain following a tumultuous election period, with delays in ballot counting and some narrowly won races in key states.
The Associated Press and other news agencies called the 2020 presidential election in former Vice President Joe Biden's favor on Nov. 7, 2020, after Biden scored crucial wins in Michigan, Wisconsin and Pennsylvania. President Donald Trump's campaign has filed several lawsuits attempting to invalidate election results in Georgia, Pennsylvania and Michigan, contesting Biden's win and claiming voter fraud.
So what does a Biden administration, along with a very tight Republican majority in the Senate – pending Georgia's special election in January – and a Democratic majority in the House, mean for the ag industry for the next four years? In a virtual Stockmanship and Stewardship conference session, Ethan Lane, vice president of government affairs at the National Cattlemen's Beef Association (NCBA) and Danielle Beck, director of government affairs at NCBA, shared their take on the outcomes of the 2020 election and changes coming down the pike in the newly elected Senate and House.
Congressional deadlines
There are several deadlines that are put in place before the election starts. These do not change, regardless of current delays in finalizing election results.
Week of Nov. 16 – House Democratic leadership will have elections this week, where they will determine a new agriculture committee chairman and leadership of the House Democratic caucus.


Dec. 8 – This is the deadline for any of the states to document any contested votes in their state. An example of this is Georgia, where the result is unclear and another election is necessary.


Dec. 14 – Congress starts the electoral college delegation process, where members will cast votes for president from those individual states.


Jan. 3 – Congress officially reconvenes, but they are expected to not do any serious business until Jan. 4, when most members are back in town.


Jan. 5 – Georgia's runoff race will happen, which will determine who will have ultimate control of the U.S. Senate moving into the next Congress.


Jan. 6 – A joint session of Congress convenes to actually start counting electoral votes and declare the official results of the 2020 election.


Jan. 20 – Presidential inauguration
New faces in Congress
Currently, the Senate stands at 52-48 with Republican control, pending the runoff races in Georgia in January 2021. There are seven new senators – four Republicans, three Democrats – who will be sworn in in 2021, many of which are friends to the cattle industry, including Cynthia Lummis (R-Wyoming) and Roger Marshall (R-Kansas).
Lane further discussed the difference between poll numbers previous to the election and the actual election results. "The Senate Democratic campaign committee really did not execute the takeover of the U.S. Senate that they were hoping to in this election cycle. The net gain was one seat," he said. "The Republicans lost Martha McSally in Arizona and Cory Gardener in Colorado, and Doug Jones, the Democratic senator from Alabama, lost his race. That results in that one seat pickup for Democrats in the U.S. Senate, so as of now, Mitch McConnell (R-Kentucky) will remain the majority leader of the Senate and Chuck Schumer (D-New York) will remain the minority leader in the U.S. Senate."
Lane also discussed changes to the House ag committee. House Agriculture Committee Chairman Collin Peterson (D-Minnesota) lost his seat in the last election. The top contenders for his position include Reps. David Scott (D-Georgia) and Jim Costa (D-California), both moderate democrats who have a good history of working with ag policy. Other names being floated are Jim McGovern (D-Massachusetts) and Marcia Fudge (D-Ohio), who is also a possible candidate for U.S. ag secretary in the Biden administration.
Democratic unrest
Lane also addressed the increasing friction within the Democratic party. "Some of the progressive policies from the left wing of the Democratic Party really aren't resonating in suburbia," he said. "In some of those districts, what we've seen is that they may not have liked the president, they may not have liked his policies, they may have not liked him personally, but they were equally displeased with what they were hearing from the Alexandria Ocasio-Cortez wing of the Democratic Party, and they voted that way.
"The fundamental challenge they're having is that they have those fairly loud voices on the left wing that have backed sort of the Defund the Police and Green New Deal type of policies, and those are really problematic for moderate democrats that are trying to hold seats in purple districts or even slim red districts."
Lame duck Congress
Beck highlighted some issues Congress is expected to address before the year is over. This "lame duck" period – after the presidential election but before the new administration takes over – is typically very productive for Congress. "If you look at the last eight full lame duck sessions, on average, all that activity accounts for about 18 percent of legislative output for their respective congresses, so I think we can still anticipate this will be a busy time," she explained. Beck said some of the top priority issues for this Congress to address are another COVID-19 relief package. There has been a lot of back and forth between both chambers of Congress and the president about what that the package will include, as well as other issues that will be on the table, especially funding for the 2021 fiscal year, which may be another bargaining chip when it comes to COVID-19 relief negotiations.
There is the ever-present worry of a government shutdown in the event that Congress cannot agree on a budget, but Beck said she doesn't anticipate very much trouble there. "Really, it's a matter of what types of agreements can Republicans and Democrats come to on funding levels and then policy riders. There shouldn't be any hitches when it comes to relevant priorities for ag playing in those negotiations," she says. "I think we just need to keep our heads down and be a duck for the time being and work to get our ducks in a row for the next Congress."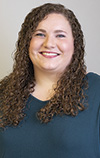 Carrie Veselka

Editor
Progressive Cattle