1. An agreement in principle is in place
On Aug. 25, President Trump announced a bilateral trade agreement in principle with Japan that includes beef.
Under this agreement, the tariff on U.S. beef would be lowered from the current 38.5% to 9% over multiple years and phases.
This would be a significant win for the beef industry because Japan is such a major destination for U.S. beef exports.
2. Japan is the biggest export destination for U.S. beef
Japan is one of the primary trading partners for U.S. beef in both volume and dollar value. About 28% of U.S. beef exports in 2018 ended up in Japan, which makes it the top destination for U.S. beef. The total value of this beef exported to Japan was around $2 billion.
3. U.S. beef currently faces higher tariffs than other countries into Japan
A quick, simplified definition of a tariff is that it is a tax on foreign goods to enter a country.
The tariff on U.S. beef entering Japan is currently 38.5%. The rate has been as high as 50% in recent years due to a triggered safeguard tariff during 2017. Meanwhile, the tariff for Australian frozen beef to enter Japan is only 26.7% and is scheduled to continue to decline. Australia is Japan's leading source for beef. One key difference is that Australia is already part of a trade agreement with Japan. The proposed agreement between the U.S. and Japan would close this tariff gap. A similar example is the U.S. currently has a bilateral trade agreement with nearby South Korea, which is reducing the tariff on U.S. beef gradually to zero over the next seven years.
4. This deal would accomplish what beef producers wanted from TPP
A trade deal between the U.S. and Japan would replace the sting of not being in the multilateral Trans-Pacific Partnership for beef producers. That deal, formally called the Comprehensive and Progressive Agreement for Trans-Pacific Partnership (CPTPP) agreement, substantially reduced tariffs for U.S. competitors. The agreement in principle announced would lead to tariffs level with CPTPP partners even though the U.S. is not a member of CPTPP.
5. The agreement is not final yet
The announcement of the agreement is an important step, but the deal is not signed yet. It is expected that the deal could be signed at the United Nations General Assembly summit during September. There are also more details to be released, such as any potential changes to the safeguard for U.S. beef and how it is positioned relative to that of the CPTPP.
PHOTO: A Japanese family enjoys U.S. beef at a promotional event put on by the U.S. Meat Export Federation (USMEF). Photo courtesy of the USMEF.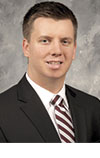 Josh Maples

Assistant Professor and Livestock Extension Economist
Department of Agricultural Economics
Mississippi State University