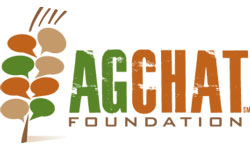 Americans may have noticed a new social media trend this past year: more Facebook posts from the farm, more tweets from the tractor and more blogs from the back forty.

The timing of this social media "stampede" couldn't be better, says Jeff Fowle, president of the AgChat Foundation. Celebrating its one-year anniversary today, the AgChat Foundation is a 100-percent volunteer organization formed to empower farmers and ranchers to effectively tell their stories using social media.
He says in one 2010 study1conducted by the Hartman Group, 59 percent of consumers purchasing local said they wanted a "connection to the farmer."

(Progressive Dairyman interviewed two board members shortly after the foundation launched. Read the "3 open minutes" interview with Michele Payn-Knoper, a professional ag speaker who founded the #agchat community on Twitter, and Kathy Swift, a dairy veterinarian from Florida.)

In just 12 months, AgChat Foundation has successfully inspired farmers to add tweets and posts to their daily chores. It even earned a coveted spot on the 2011 SXSW® Interactive Festival program, last month, presenting alongside the country's brightest in emerging technology.

Yet, its greatest achievements, Fowle says, are the hundreds of farmers it has inspired to "agvocate" for agriculture, and the thousands of consumer conversations it has spurred.

"Increasingly, urbanites are tuning in to the rural lifestyle and talking directly to the folks raising their food," says the fourth-generation rancher with more than 33,000 Twitter followers, and author of Common Sense Agriculture's Blog. "Our job is to step up farmers' social media skills and help them find their authentic voice."

It's up to the farmers what stories or information they share: "Some opt for human-interest farm life stories, while others have tackled tough topics, such as animal welfare. We're working with farmers young and old, representing organic and conventional farms of all sizes. It's a diverse bunch with ranging levels of skills and stories. What they all have in common is a desire to connect with their urban counterparts."

Five Ways to Follow a Farmer
AgChat Foundation has compiled a list of suggested "farmer follows" that we think are great:

Click a link below to go directly to that section.
• Farm Life, According to Farm Wife
• Organic, Small & Slow Farm Voices
• Top of Their Class
• Cattlemen (and women) with a Cause
• Tending Their Crops and Land
#1 Farm Life, According to Farm Wife
These are not your grandmother's farm wives. Take Elizabeth Nieman, who started Life as an Iowa Farm Wife to dispel common myths of food production. She loves a good debate, and her post on "factory farming" garnered hundreds of comments. Join in the convo, but be sure to read her ground rules.
Nancy Grossi, a former-cosmetologist-turned-farm-mom, depicts her modern day "Little House on the Prairie - without the prairie" in Wife of a Dairyman. Enjoy stories about life on a family dairy farm in California, along with oodles of "real food" recipes.
In Brenda Hastings' The Dairy Mom, the Ohio farmer with a master's in agriculture from Cal Poly State University, expertly educates and entertains.
And, if you're looking for something a little closer to Grandma, page through Jane Lukens' GriggsDakota blog. It just might bring up the nostalgia one feels when browsing through those old vintage linens, glassware and recipes. Posts from the fifth-generation North Dakota farmer are precious, practical and tinged with a patina of yesteryear.

back to "Five Ways" list

#2 Organic, Small & Slow Farm Voices
Jan Hoadley, a raiser of backyard chickens and crusader for rabbits, has a few things to say about small farming in Slow Money Farm. The hobby farmer extraordinaire's blog is brimming with farming stats, and she openly discusses the opportunities and challenges of staying viable while diminutive.
Penning the Zweber Family Farm blog is one of Emily Zweber's many responsibilities on the century-old farm that she and her husband, Tim, transitioned to organic certification in 2007. Emily's posts are humorous and uplifting as she shares life's many lessons – and the regular "Hunk of Meat Monday" recipe – as experienced through the eyes and tummies of this young, successful Minnesota farm family.

(Progressive Dairyman has featured the Zweber family's social media activities twice now this year. Learn more in "Grazing is now 'Progressive' says one PD reader" and "Dairy producers compete in national contests.")
Lori Anne Lau of Lau Family Farm in Idaho proudly raises grass-fed and grass-finished beef and lamb, which they sell at multiple farmers' markets in Idaho and Utah. She uses her Facebook page to share videos (check out the "lamb wave") and regularly connect with customers.

back to "Five Ways" list

#3 Top of Their Class
Michigan State senior Amanda Sollman gets extra credit for her blog in which she explores hot-button topics, like Wal-Mart and local agriculture, and Oprah's "vegan challenge."
Also, check out Agventures of a College Student, in which Kelly Rivard tirelessly promotes agriculture, telling the story of a displaced farm girl attending college in a ritzy Chicago suburb.
In young dairy producer Ashley Messing's blog, Dairy Innovation, she shares updates from the calving pen, tutorials on cow parts and Wordless Wednesday posts featuring her passions, including a growing cowboy boot collection.
Danielle Hammer is a self-described "corn-heiress," growing up in Holstein-dappled Wisconsin. She recently discovered "agvocacy" and is now teaching others; see her top 10 tips for agvocating on Facebook.

Interesting fact: 74 percent of young farmer and rancher members now consider communicating with consumers a formal part of their jobs, according to the American Farm Bureau Federation.

back to "Five Ways" list

#4 Cattlemen (and women) with a Cause
When not on horseback or tending to cattle in a snowstorm, Jecca Ostrander of Nebraska is busy penning stories about her family's ranching heritage and values at Ranch Wife 4 Life.
Join Ryan Goodman's at his "thinking post," the AR Ranch Hand blog. "Just an ordinary kid from Arkansas who grew up on a cattle ranch," Ryan lost his mother to a cattle accident, an experience he says gave him the drive to succeed. Catch a glimpse of real ranch life on this photo-filled blog as he shares how he cares for his land and animals.
Andy Hutchison, aka chainranchlady, is a grandmother of nine, and a fifth-generation ranch woman blogging about her "wild and crazy adventure" with fun posts, like "Ranchy/Farmy Men" and "I Never Met a Cow I didn't Like (or any animal for that matter)."

(Want to see how other cattle producers are using Facebook, Twitter and blogs? Check out the new Progressive Cattleman article, "The new face of marketing: Producers expand the brand through social networking media.")

back to "Five Ways" list

#5 Tending Their Crops and Land
Jillian Stephens and Jared Etress, to be married in June, write From the Tractor Seat. He's a devoted steward of the land; she, a lover of peanuts, poetry and Auburn Tigers. Together, they "plow through life one row at a time," and soon the young farming couple will be trying their hand at cotton.
In Through the Windshield, fruit and grain farmer Jeff Vanderwerff shares his point of view – from the pickup seat or tractor cab. Jeff's especially proud of being a Michigan apple grower.
Ryan Weeks is a fifth-generation Nebraska farmer raising yellow corn, popcorn, soybeans, prairie hay and alfalfa. Last harvest, his 2.5-year-old daughter accompanied him in the combine. Listen as she sweetly sings "Combine" for her daddy, and check out his Days of the Weeks blog.

(Progressive Forage Grower has featured two articles about producers tweeting from the fields. Check out "#harvest10: How social media does harvest season" and "Telling your story from the seat of a combine through social media," which was a presentation made at the 2011 Vita Plus Custom Harvester Meeting.)

AgChat Foundation invites consumers to learn more about agriculture and food production by joining the live #AgChat Twitter conversation each Tuesday at 8 p.m. EST.


back to "Five Ways" list

—From AgChat Foundation news release, with notes by Progressive Cattleman staff