The North American Meat Institute (NAMI), a contractor to the Beef Checkoff, recently revealed a new "beefed up" variation of sushi: Beefshi.
Beefshi is made in the same style as traditional sushi, but exchanges raw fish for different beef products like pastrami, summer sausage, corned beef and even beef bologna and hot dogs.
The eight new Beefshi recipes include:
Texas Asade Sushi – Roast beef rubbed with lime zest, ground cumin and garlic, and rolls with cilantro, slivered jalapenos and onions, and crumbled Cotija cheese. Served with salsa.
Inside Out Wisconsin Maki – Sushi rice on the outside wrapped around a stick of summer sausage, a sliver of Colby cheese and shaved dill pickles. Served with brown, spicy mustard.
New York Deli Roll – Corned beef takes the place of the seaweed wrap on the outside of the roll. Slivers of fresh horseradish and Swiss cheese are rolled into the middle. Roll the exterior in a few caraway seeds.
The Reuben Roll – Warm pastrami, sauerkraut and thinly sliced Swiss cheese rolled into sushi rice and served with Russian dressing.
The Hiker's Roll – A traditionally styled roll with nori wrapping around sushi rice, filled with slivers of beef jerky, slices of egg omelet and pea shoots or watercress with the leaves poking out the top of the roll. Dip into Sriracha.
Carolina Sushi – Shredded fried beef bologna and carrot slivers rolled in rice with a vinegared cabbage leaf in place of the seaweed wrap.
Sleeping Dog Sushi – A piece of warm, grilled hot dog atop sushi rice and served with ketchup pepped up with vinegar and mustard powder.
Sunday Supper Sushi – Thinly sliced roast beef wrapped around sushi rice with slivered carrots and pea shoots in the center. The top of the sushi is garnished with grated radish and served with savory au jus sauce.
An online survey conducted on behalf of NAMI suggests that consumers are interested in trying Beefshi. "Beef has always been popular among Americans and millennials and those aged 35 to 44; in particular, they seem to see the appeal of beef prepared in new and interesting ways," said NAMI Senior Vice President of Public Affairs Janet Riley in a NAMI press release. "When a new and not-yet-tasted recipe scores this well against a familiar food like sushi, it's clear that Beefshi is positioned to be a hot culinary trend in 2018 and beyond."
Riley said Beefshi could make a good addition to sushi bars and possibly draw in a new range of customers, especially those leery of trying traditional sushi due to the raw fish factor. "Beefshi can serve as an excellent and innovative addition to sushi restaurant menus or any restaurant looking to innovate with a creative new food concept," she said. "Beefshi recipes also use fully cooked and prepared beef products, making them safe and delicious options for beef fans of all ages."
Riley also told the Meatingplace's Gregory Bloom that one of NAMI and the checkoff's main target groups with this new idea is millennials and millennial parents to help establish familiarity and demand for beef products, hence the catchy millennial-style name, "Beefshi." "The millennial generation has been raised on a wider variety of convenient foods, including chicken nuggets and pizza," she said. "The products they consume don't embed in their memories the same way, and they have less of a sentimental attachment to them."
To find recipes and instructional videos on how to prepare Beefshi, visit Beefshi.com.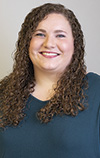 Carrie Veselka

Associate Editor
Progressive Dairyman
PHOTO: Photo courtesy of the North American Meat Institute.
Before commenting on our articles, please note our Terms for Commenting.