In every industry there are key milestones that mark a change in the course of history, and according to Mark Allan of TransOva Genetics, that milestone for the beef industry was artificial insemination (A.I.).
Speaking to producers and industry experts at the Beef Improvement Federation (BIF) convention in Brookings, South Dakota, in June, Allan credited the adoption of A.I. in the 1950s to the development of other advanced reproductive technologies such as embryo transfer, in vitro fertilization (IVF), sexed semen, cloning and more.
"Our advanced reproductive toolbox just keeps getting better and better," Allan said. "The toolbox changes and we add to it, but we never really get rid of or replace a tool in the toolbox."
Advanced reproductive technologies have accelerated genetic gain at a high speed, Allan said, but generational interval and the accuracy of genetic predictions have likewise tapped the brakes. Genomically enhanced expected progeny differences (EPDs) have helped bridge those gaps, increasing the accuracy of EPDs and allowing for the prediction of genetic merit in younger animals where individual or progeny phenotypic data is limited or unavailable.
Allan believes the next logical step is selecting the next generation of parents by using embryo selection to increase selection intensity, and the need for quality phenotypic data will remain crucial in future genetic success, he said.
Update on gene editing
Another solution in accelerating genetic gain could be found in genome editing – just without the unwanted genetic changes.
Allison Van Eenennaam, an extension specialist in animal biotechnology and genomics at the University of California – Davis, touched on her latest work addressing the welfare issue of horned Holsteins by splicing the polled gene from Aberdeen Angus into the Holstein breed.
She explained that while there are already Holsteins that are polled, the homozygous polled Holsteins net approximately $150 less when compared to the horned animals due to the effects of inbreeding. Instead, gene editing is being used to knock out undesirable traits that come along as genetic hitchhikers when selecting for elite genetics.
"It's a little bit of a cherry on top of a breeding sundae," Van Eenennaam explained while looking at the opportunity in the beef industry. "Nothing about our traditional breeding programs is going to go away because of editing, but what it does do is introduce the ability to introduce alleles without linkage drag and also bring useful genetic variation from other species."
Much like earlier genetic engineering approaches, Van Eenennaam said the technology hinges on the regulatory framework and governance of genome editing for food animals, which will likely vary by country. She believes, however, that gene editing is a positive for the industry as it would address issues such as disease resistance and improved welfare traits.
Heterosis and heritability
"What would a BIF conference be without a presentation on heterosis and crossbreeding?" Neogen's technical service director John Genho joked.
As a review, Genho explained that heterosis is simply the idea that crossbred calves are superior to the average of the two dissimilar parents. The advantage of heterosis is it generates the largest improvement in lowly heritable traits, such as fertility.
"Carcass traits tend to be more heritable than fertility and health traits," Genho said. "I think it's an important concept of heritability and heterosis influencing different traits. Most of our value at the commercial level is really driven by heterosis."
Genho believes the reason why more producers aren't using a crossbreeding program is due to the average herd size. The average producer in the U.S. has 40 head, and to implement a good crossbreeding program, it requires upward of 100 head or more. We have a very small percentage in our county of commercial producers who are able to crossbreed successfully.
The answer to this, Genho believes, lies in DNA testing. "What if we were able to say which ones were heterozygotes? We can run a DNA test, and it is really easy to pull the data. What if we could say, 'These animals go back to the breed type of Santa Gertrudis' and 'These animals go back to breed type of Red Angus'? It's not true heterosis; it's an indicator," he said.
In addition, these values or "H-scores" could help commercial producers identify replacement candidates that are more or less likely to remain in the herd for a longer time. "I think there's a ton of value in knowing that a heifer is 15 percent more likely, for example, to stay in the herd, based on heterozygosity. I think that is one of the most valuable things you can hand to a commercial producer," Genho said.
More presentations from this year's BIF meetings can be found online (Beef Improvement Federation Conventions).
PHOTO 1: Mark Allan
PHOTO 2: Allison Van Eenennaam
PHOTO 3: John Genho. Photos by Cassidy Woolsey.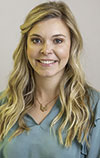 Cassidy Woolsey

Editor
Progressive Cattle
"Ask yourself: 'Do I raise cattle because I am profit-motivated?' If you are, you use these tools," Matt Spangler, a geneticist at the University of Nebraska – Lincoln said, explaining the importance of selection indexes and EPDs.
On foot score EPDs: "I think one of the things we can look at is – can we build them correctly from the ground up? Can we start at their feet and can we make them better low so they can be better up high?" said Kelli Retallick, director of genetic services for Angus Genetics Inc.
On advancing cow fertility: "As we think about the idealness of a beef cow, reproduction is central to that," said Bob Weaber, a cow-calf specialist at Kansas State University. "It is influenced by a lot of things – environment, management, the bulls we turn out – but that shouldn't dissuade us from pursuing it."