A long-term decline in red meat production, sparked by lower cattle numbers and higher grain prices, should set the pace for better calf prices heading into 2022, according to Randy Blach of CattleFax.
Speaking to the Texas and Southwestern Cattle Raisers Association (TSCRA) on July 24, the CEO of CattleFax highlighted how the industry labored through a backlog of 1 million head going into the winter of 2020 and carrying over into 2021. Now that the industry has caught up, the cattle inventory will begin to decline – especially if drought leads to culling in the West.
From a market standpoint, those factors can play to ranchers' advantage, Blach explained. "As you look at these markets over the course of several years, we have much, much better times ahead of us," he said. "With more profitability ahead of us, higher prices, I think we're getting into a situation where the markets will work better than what they have for a period of time."
Current market dynamics
Drought in the U.S. would have been worse without the rain that boosted grass in southern and western states. The U.S. was looking at major herd liquidation without that precipitation. But, corn production is still tenuous going into late summer and fall harvest, Blach said. Since working through the backlog, the cattle market is now seeing 600,000 head less in the feeder calf market from a year ago.
Cattle on feed numbers are down 1%, with that total looking at a 4% drop coming this October. It all points to a reduction in the cattle supply. Corn prices have ranged from $2 to $3 per bushel higher on cash and December corn contracts in the past year, he said. And, now a key section of the corn crop is in regions still facing possible drought. "We're not out of the woods yet. We have to have a good yield across this region, or we're going to have another spike in corn."
In reviewing the eight-year stretch where corn went from $8.50 in 2013 to $3 to $4 for much of that period, Blach said market dynamics favor higher prices for feed for a continuing stretch. "You don't have a six-year bear market, and a one-year bull market. That's not the way markets work. Keep in mind this global demand and big push in commodities, and we're likely to see a push in a number of commodities."
The grain market will carry a heavy impact on all protein production, as feeders shell out more for the finishing stage. Overall, CattleFax is predicting a 2.7% jump in beef production in 2021, determined largely by the first half of the year. Then production will drop 2.5% in 2022, and have a 1.3% drop in 2023. "The amount of beef people consume in the U.S. is going to decline over the next three to four years because production levels are going to be smaller, not because of demand but because production levels are smaller," Blach said. "That's what happens when corn goes to 6 dollars per bushel. Pork and poultry are not going to expand the way they normally would."
Climbing demand metrics
Blach said the U.S. beef industry has reached its highest point on the demand index in 33 years. Export nations are seeing stronger demand as well, pushing a higher price for the tight supply going into the coming years of a new cycle. Japan, Korea and the emerging Chinese market continue to be the driving partners in the purchase of U.S. beef. "Exports are strong, strong, strong, record large," he said. "All proteins are going to be higher, not just beef – all proteins will be higher over the next two to three years. We've already seen pork and poultry basically at record prices."
In explaining the 33-year high for beef demand, Blach pointed to the industry's climb back from the 1980-1998 decline that decimated producers. "We lost 375,000 producers; the cattle supply lost 16 million head, 5 million beef cows. Consumption dropped 78 to 66 pounds per capita. Demand was cut in half [on the beef demand index from 100 to 44]."
"We weren't making decisions in those days on what the consumer was wanting, and how much they were willing to pay." That has changed, Blach explained, to meet eating satisfaction for customers based on tenderness and marbling. In 1998, 50% of beef graded Choice or better. Today it's above 83% Choice or better. The momentum is driven by providing what consumers want, Blach said. The industry has gained 8% of the market share dollar for proteins in recent years – taking it away from poultry and pork. That demand growth equates to $240 per head, he explained.
"We have to listen to the consumer. If they want more attributes in this product, we need to do that." Blach said if it's related to animal welfare, or sustainable practices, that likewise has to be delivered. "All those things are coming; they're already here. But, they're going to be more mainstream as we go down the road. The targets are not going to quit moving, they'll continue to ask for more. We need to be in a position to respond to that."
Price discovery and packing
Blach jumped into the ongoing price discovery debate by applauding the work of committees trying to determine issues related to cash trade and price transparency. While not dismissing that issue, he broached the changing dynamics on less packing capacity in the industry.
Click here or on the image above to view it at full size in a new window.
Since harvesting 30.2 million head in 2000, with a going pace of 588,000 head slaughtered in an average 40-hour week that same year, the industry's capacity saw a major decline. By 2016, weekly slaughter fell to 465,000 head a week, with additional drops a couple years after that. "We've always had more packing capacity until we got to '16 and '17 and it flipped," he said. "We've had more cattle than we can harvest in a 40-hour week. We're talking about 20,000-a-week reduction for the past two years." But, with the Tyson plant fire in 2019, followed by the COVID-19 backlog that was spread throughout 2020, the shackle-space shortage was magnified further. Plants that closed from 2010 onward added to the backlog in ensuing years.
Plants pushed back to 52,000-head slaughter a week after May 2020, thanks to Saturday shift additions. The industry is pushing for more infrastructure to even the numbers, while trying to get labor back into full swing. "We can't get through this front end without more shackle space," Blach said. "Why didn't the cattle market share in that rally we went through in 2014 and '15; we don't have enough shackle space."
With a new price cycle beginning in late 2021, defined by declining herd numbers, high corn prices, high beef demand and a still tight packing structure leading to less supply, Blach said there is significant reason to be optimistic. "The industry has gone through some difficult times," he said. "But, I would tell you we're through the worst of it. We're through the worst of that front end supply. Over the course of the next 30 to 60 days, you'll see markets starting to transition and get some traction."
"The supply side will tighten for at least the next four years. Stay focused and make sure we're listening to the consumer. We've got to put product out in front of them they're willing to pay for."
PHOTO: Randy Blach, CattleFax CEO, spoke to the Texas and Southwestern Cattle Raisers Association on July 24, 2021. Photo by David Cooper.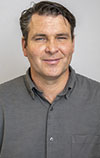 David Cooper

Managing Editor
Progressive Cattle