This year has already started out with a blaze as Oklahoma yet again battles flames and other fires crop up across the country.
In April, the Rhea and 34 Complex fires burned 348,000 acres across Oklahoma, killing an estimated 1,600 cattle, with that number expected to increase as reports come in, and cost millions of dollars in losses of feed, pasture and facilities.
Also in April, the Mile Marker 117 Fire burned 41,000 acres in Colorado.
As of May 5, the Avian Complex fire has burned over 29,000 acres in the Big Cypress National Preserve in Florida.
As of May 4, the OK Bar fire has burned 61,436 acres in New Mexico's southern panhandle.
There are several other smaller fires currently wreaking havoc across the U.S., and it is only May. According to the U.S. Drought Monitor, almost 29 percent of the continental U.S. is suffering from drought conditions.
Summer has arrived in most parts of the country, and between the heat, droughts and good old-fashioned bad luck, there is no reason to believe that lightning won't strike twice.
2017 broke all records as the most costly year for natural disasters in U.S. history. Wildfires spread through Kansas, Oklahoma and Texas, and rampaged through California and Montana and other Western states, burning millions of acres and destroying property, rangeland and livestock. Hurricane Harvey swept through Houston and Hurricane Irma left Florida in tatters. All totaled, the damages from natural disasters amounted to $306 billion, according to the U.S. National Oceanic and Atmospheric Administration.
But let's not forget the countless hours of labor from volunteers to clear away the debris, and donations of hay, feed and other necessaries that poured in from farmers and ranchers across the country, plus monetary donations and disaster relief from the USDA that helped ranchers and other residents of the burned areas squeeze by.
Thanks to the 2017 fires, hay and pasture are a little scarce for producers in Kansas, Oklahoma and Texas, and the rest of the Southwest, forcing them to trim their herds in order to manage feeding them.
Hopefully this year will not be a repeat of last year, but if catastrophe strikes, be prepared to help if at all possible. As a rancher from Midland County, Texas, who sent hay to the stricken areas of his state said during a March 2017 newscast, "We are blessed to be a blessing." It's time to prepare for the next round of blessings.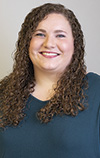 Carrie Veselka

Associate Editor
Progressive Cattleman
PHOTO: A donated load of hay makes its way to Kansas from Iowa during the outpouring of help after the 2017 fires. Photo by Brian Stolzenburg.
Before commenting on our articles, please note our Terms for Commenting.