The Senate voted unanimously last week to block the Green New Deal that has recently caused quite a stir in the agricultural community. The Green New Deal received 57 "no" votes and zero "yes" votes.
Many Democrats, including those who vocally supported the Green New Deal prior to the vote – even the bill's chief sponsor in the Senate, Sen. Ed Markey (D-Massachusetts) – voted "present" instead of declaring a "yes" or "no" vote. Many of the senators who voted "present" later voiced their reluctance to support a piece of legislation that would enact so many drastic changes so soon, although they maintained that climate change should remain a priority.
The Green New Deal proposed sweeping changes to reduce greenhouse gas emissions and end the use of fossil fuels within the next 10 years, although the plan included very little policy direction on how to make the proposed changes. The Green New Deal hits close to home with the cattle industry since greenhouse gas emissions from cattle have been high on the environmentalist hit list for years.
Proponents of the Green New Deal held a rally and media conference at Capitol Hill the morning of the Senate vote. Ed Frank, NCBA senior director of policy communications and host of the Beltway Beef podcast, Scott Yager, chief environmental counsel for the NCBA, and other industry representatives attended. Yager joined Frank later that day for a podcast to discuss their experience. They said dozens of reporters and four senators, one a presidential hopeful, were present. Three of the senators, along with several activists, spoke to the media about the critical need for the Green New Deal. "These are United States senators standing outside the U.S. Capitol Building calling for immediate passage of legislation they support," Frank said during the podcast. "They finish the news conference and they go inside the U.S. Senate chamber and not one of them votes to move the bill forward."
Several of the speakers at the rally were representatives of anti-ag activist groups that used the opportunity to demonize agriculture. Yager said the news conference was a good reminder of what the ag industry is up against. "The people who are behind this Green New Deal do not have the best interests of farmers and ranchers in mind," he said. "They want to change everything you're doing on a daily basis to achieve climate change reductions."
Yager said that leading with science is the key to affecting climate change. He said that, according to the Environmental Protection Agency emissions inventory numbers, greenhouse gasses from beef cattle only represent 2 percent of direct emissions in the U.S.
"It's important that we keep talking about [climate change] and we make sure that we lead with the science, we lead with the facts to make people aware that the beef cattle industry is not a significant contributor in greenhouse gas emissions," Yager said. "We have been improving over time, and change into a vegan or vegetarian diet is not going to result in climate change emissions reductions."
Yager said the climate change challenge is not over with the Green New Deal. "This is not something that is going away any time soon, especially with a divided Congress and a Democratically controlled House," he said. "We expect that more of these types of misguided climate policies will come forward, and when that happens, we will step up and we'll keep telling our story."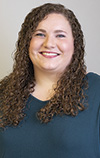 Carrie Veselka

Editor
Progressive Cattleman