The EPA recently announced their intent to revise current water protection policies and redefine waters of the United States – again.
The current policy in action, the Navigable Waters Protection Rule (NWPR), a Trump administration response to the Obama administration's Waters of the U.S. (WOTUS) rule, was greatly supported by farmers and ranchers and is now under heavy scrutiny by the Biden administration, which favors a swing back to Obama-era practices.
EPA Administrator Michael S. Regan said in a press release that the NWPR is leading to "significant environmental degradation" and that the EPA and the Army will work on determining a more "durable definition of 'waters of the United States' based on Supreme Court precedent and drawing from the lessons learned from the current and previous regulations."
The EPA also announced its intention to restore the protections in place prior to the 2015 Waters of the U.S. implementation and develop new regulations that are "informed by a robust engagement process as well as the experience of implementing the pre-2015 rule, the Obama-era Clean Water Rule and the Trump-era Navigable Waters Protection Rule." The agricultural community has been promised a stake in that engagement process, but time will tell how much of a voice ag producers will really have in shaping policy that directly affects them.
Don Parrish, American Farm Bureau Federation (AFBF) senior director of regulatory relations, said in a AFBF Newsline podcast that the EPA's outline lacks clarity, and the focus on temporary waterways like streams and ditches that only exist during the wet season is a step back from the NWPR because it lands in the hazy area between water use and land use. "If that's their target – the whole issue of where water ends and land begins – there's a real question mark on the landscape, and it's going to create all kinds of issues.
"I don't know where this is going, but it is clearly going to be a really detailed and a really significant fight and I need farmers and ranchers to understand that this is not a fight about protecting water quality, because the NWPR does that, this is a fight over land use."
The NWPR is only one of many Trump-era policies on the Biden administration's hit list. Biden's Executive Order 13990 directs federal agencies to review all existing regulations, orders or policies, issued or adopted during Trump's presidency. The list consists of 104 items, including the National Environmental Policy Act, several entries on the Endangered Species list, and several issues regarding land and water conservation.
Visit The White House - Fact sheet: List of agency actions for review for more information.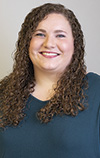 Carrie Veselka

Editor
Progressive Cattle