Motif Ingredients, a Boston-based food company, launched on Feb. 26 with $90 million in Series A financing to provide next-generation alternative proteins and other ingredients to global food companies.
Powered by Ginkgo Bioworks' platform for biological engineering, Motif Ingredients will leverage biotechnology to create more alternative meat products to meet a growing consumer demand.
Motif investors include Breakthrough Energy Ventures, Louis Dreyfus Co., Fonterra and Viking Global Investors. Jonathan McIntyre, formerly head of research and development at Indigo Agriculture and former senior vice president of research and development at PepsiCo, will lead Motif as CEO. According to Meatingplace editor Rita Jane Gabbett, the investors behind Breakthrough Energy Ventures include Microsoft founder Bill Gates, Amazon founder Jeff Bezos and Virgin Group founder Richard Branson.
According to a Motif Ingredients press release, consumer demand for alternative foods such as meat substitutes and plant-based beverages grew 17 percent in 2018. Motif Ingredients plans to use biotechnology and fermentation instead of animal agriculture to produce dozens of proteins derived from dairy, eggs and meat "without compromising the functionality, taste and nutrition of animal-based ingredients."
"Biotechnology and fermentation is our answer, and Motif will be key to propelling the next food revolution with affordable, sustainable and accessible ingredients that meet the standards of chefs, food developers and visionary brands," said Motif CEO Jonathan McIntyre.
Motif is the second startup to launch from Ginkgo's bioengineering platform. The first, Joyn Bio, was launched in September 2017 in a joint venture by Ginkgo and Leaps by Bayer to focus on achieving more sustainable agricultural practices, starting with nitrogen fixation.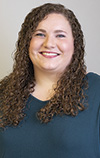 Carrie Veselka

Editor
Progressive Cattleman