It is hard to wrap your arms around 1.4 billion people, or 18% of the world's population, but after visiting Beijing, China, last year I have a better idea of the beef export opportunities in this country.
In May 2018, the U.S. Meat Export Federation (USMEF) organized a beef promotion trip for 12 U.S. beef cattle producers to Beijing, China, and Tokyo, Japan. We spent four days in Beijing and three days in Tokyo promoting U.S. beef to major retailers, food service groups and food influencers. I certainly gained an appreciation for global beef markets – and especially China.
According to USMEF data, February 2019 total beef exported from the U.S. accounted for 12.8% of the total U.S. beef production, and value per head of fed slaughter averaged $309.39. What does this value mean to the cow-calf producer? It equates to approximately $150 in additional value for a weaned calf off the ranch. In today's market, that is almost 20% of the value of a weaned calf.
The Japanese market for U.S. beef has been booming for years and is a fairly mature market we continuously try to expand our presence in. Currently, they are our leading beef export market with $2.7 billion in 2018, and January-February 2019 exports were up 10% over the same period in 2018. Consumers in Japan love U.S. beef, and we can continue to have a strong presence there as long as higher tariffs don't reduce our price competitiveness.
China reopened its doors to U.S. beef again in 2017, and there has been some frustration since the announcement. China has some very strict production requirements on the beef it imports from the U.S. These include traceability back to the birth farm, hormones, beta-agonists, a variety of veterinary drugs and other chemical compounds. Recently, China and the U.S. have been in a trade war and imposed high tariffs on products. This has caused much uncertainty with the demand for U.S. beef in China.
In 2018, China/Hong Kong imported 250 million pounds of U.S. beef valued at $944 million. The excitement of the Chinese market is the fact 1.4 billion people live in China, and they have a growing appetite for beef. This could lead to major beef export opportunities for U.S. cattle producers. If we could sell each person in China an additional pound of beef each year, our total beef exports to this country would increase by over 500%.
As you can see, there is a great opportunity to market more U.S. beef into China. However, it will take some time and investment to foster the development of this market. The most interesting part of the beef promotion trip to China and Japan was the ability to compare and contrast the two markets.
The Japanese beef export market has been strong for many years, and that has been due to the marketing efforts of the USMEF with support from beef checkoff dollars. The USMEF has staff in Japan that continuously promotes U.S. beef by developing relationships with retailers and food service groups. While in Japan, we had the opportunity to visit retailers to talk about U.S. beef cattle production and also conducted grilling demonstrations under the stars in Tokyo for 30 food bloggers that each had over 100,000 followers.
The next morning, those food bloggers began posting pictures and information about the event, and the impact was massive. Japanese consumers love U.S. beef and will continue to if we can be price-competitive with other countries. Currently, several other countries have much lower tariffs on their imports into Japan, and this is a concern for the U.S. beef industry.
The Chinese market for U.S. beef is a very immature market. As we visited grocery retailers and restaurants in China, we quickly realized that much has to be done to increase the demand for U.S. beef. Some of the obstacles are as simple as the fact that homes have small kitchens with only two stove-top burners and no oven.
Cooking a steak like we do in the U.S. can be a challenge in homes in China. USMEF is working to introduce new cuts and preparation methods in order to develop demand for U.S. beef in China. Additionally, we must help retailers and food-service managers understand the value and quality of U.S. beef in comparison to lower-quality beef products from other countries.
As we continue to see record beef supplies and competition from other protein products, we must search for additional markets outside of the U.S. The domestic beef market is our bread and butter, but we can't turn our backs to other markets that will add value to the U.S. cattle industry.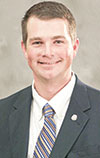 Jason Cleere

Associate Professor and Extension Beef Cattle Specialist
Department of Animal Science Texas A&M AgriLife Extension Service