President Donald Trump and former Vice President Joe Biden outlined their goals and priorities for U.S. agriculture in a questionnaire distributed by the American Farm Bureau Federation (AFBF).
The questionnaire covered 12 key issues that directly affect farmers and ranchers, including farm policy, international trade, labor issues, sustainability and regulation reform.
"The views of Farm Bureau members are as diverse as the food that is grown in this country, but we share the same goal of choosing leadership that will help America thrive," AFBF President Zippy Duvall stated in a news release. "We are at a crucial time for agriculture as we navigate the challenges of a global pandemic, trade wars and depressed markets. It is important for our members to understand where the presidential candidates stand on issues important to rural America."
Trump's responses focus on his first-term accomplishments, citing policy changes and regulatory reforms enacted during his administration. Biden's responses largely focus on environmental sustainability and developing rural communities. Both candidates promise to take a science-based approach and seek input from experts and scientists when developing policy and regulation.
Read all of their responses on the AFBF website.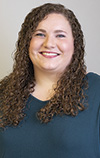 Carrie Veselka

Editor
Progressive Cattle