President Donald Trump and former Vice President Joe Biden outlined their goals and priorities for U.S. agriculture in a questionnaire distributed by the American Farm Bureau Federation (AFBF).
The questionnaire covered 12 key issues that directly affect farmers and ranchers, including international trade, labor issues, sustainability and regulation reform.
"The views of Farm Bureau members are as diverse as the food that is grown in this country, but we share the same goal of choosing leadership that will help America thrive," AFBF President Zippy Duvall stated in a news release. "We are at a crucial time for agriculture as we navigate the challenges of a global pandemic, trade wars and depressed markets. It is important for our members to understand where the presidential candidates stand on issues important to rural America."
Trump's responses focus on his first-term accomplishments, citing policy changes and regulatory reforms enacted during his administration. Biden's responses largely focus on environmental sustainability and developing rural communities. Both candidates say they will take a science-based approach and seek input from experts and scientists when developing policy and regulation.
Farm policy
Trump outlined his actions during his first term, mentioning his support of the 2018 Farm Bill and other programs put in place to protect farmers and ranchers from "unjustified trade retaliation," disaster relief programs and the Coronavirus Food Assistance Program. "Our farmers are the most innovative and productive in the world, and our farm policy must continue to unleash this great potential," he stated in his response.
Biden pledged to "strengthen our agricultural sector by pursuing a trade policy that works for American farmers." He also said he would expand on the Obama administration microloan program for new and beginning farmers and plans to "reinvest in land-grant universities' agricultural research so the public, not private companies, owns patents to agricultural advances." He also touched on antitrust issues, promising to strengthen enforcement of the Sherman and Clayton Antitrust Acts and the Packers and Stockyards Act.
Environmental sustainability
Trump said that any new sustainability or climate requirements would be science-based and not result in tighter profit margins for farmers. "The number one stewards protecting natural resources are our nation's farmers and ranchers. The Trump-Pence administration has been strong supporters of increased funding of voluntary conservation programs included in the 2018 Farm Bill that helped farmers protect our precious natural resources, including water quality, while also enhancing soil health."
Biden also said sustainability needs to be science-based and financially manageable for farmers. "We will ensure our agricultural sector is the first in the world to achieve net-zero emissions, and that our farmers earn income as we meet this milestone."
Read the full survey on Presidential candidate questionnaire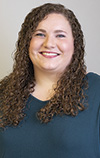 Carrie Veselka

Editor
Progressive Cattle