Students attending the national FFA convention in Indianapolis had the opportunity to hear from President Donald Trump, who appeared as the closing session on Oct. 27. This is the first time a U.S. president has attended a national FFA convention since George H. W. Bush spoke at the event in Kansas City in 1991.
Trump started off his remarks by addressing the synagogue shooting in Pittsburgh that had occurred earlier in the day that left 11 dead and several more wounded, inviting a preacher and a rabbi to say a prayer for the victims and their families.
After the invocation, Trump spoke for over an hour to convention attendees on several different issues, including global trade and the future of ethanol, and discussed different policies like the farm bill and USCMA. He also put in a good word for Reps. Jim Banks and Trey Hollingsworth, who are up for reelection today.
Highlights from Trump's address:
Trade
"But my administration is fighting for our farmers every single day. We are replacing unfair trade deals. You have very unfair trade deals, folks. If you look at farming over the last 15 years, it's a steady decline. There's no reason for it. It's not going to be a steady incline. There's no reason for what happened to farmers. Incredible people.
"We're going to be opening new markets for your exports. We're going to be eliminating job-killing regulations, which we've already done in record numbers. [Applause.] No, record numbers. We will be ending oppressive federal intrusion – and you and your families know exactly what that means. We'll be cutting your taxes, and just like I promised, we are ensuring that ethanol will remain a vital part of America's energy future."
USMCA
"We recently announced that we are replacing NAFTA with the brand new USMCA that will increase exports for corn farmers in Indiana, wheat farmers in Kansas, dairy farmers in Wisconsin, poultry farmers in Georgia, and farmers and producers all across the country.
"As part of this tremendous victory for American farmers, Canada agreed to remove their massive trade barriers to the American dairy industry. … They were charging a 275 percent tariff, which basically said, 'Don't sell your product to Canada.'"
Farm bill
"We're fighting very hard for a terrific farm bill that includes work requirements for food stamps. Don't worry about the farm bill. The farm bill I could have signed three months ago. But we're trying to make a good bill."
Waters of the U.S.
"Government has no business micromanaging your stock tanks, drainage ditches or the rain puddles in your backyard, putting farmers out of business, taking away your profits, putting you into the red. They have no right to do that.
"We're also rebuilding our water infrastructure, upgrading the dams, irrigation systems and inland waterways that are the lifeblood of American agriculture."
Closing remarks to FFA students
"You will make amazing new discoveries and achieve extraordinary new feats. You will carry on the traditions passed down through generations. And you will do it with the skill and grit and heart and strength and pride that make America's farmers, by far, the best in the world. … The greatest and most important days for the American farmer are yet to come, and you will take us there."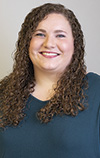 Carrie Veselka

Associate Editor
Progressive Cattleman