Tyson Fresh Meats, the beef and pork branch of Tyson Foods, recently announced a collaboration with IdentiGEN allowing them to trace beef back to the animal of origin.
IdentiGEN is a global company specializing in DNA identification. They have laboratory operations in the U.S., Ireland, the U.K. and Europe. Their DNA TraceBack program is touted as one of the most advanced traceability programs on the market.
Kent Harrison, vice president of marketing and premium programs at Tyson Fresh Meats, said in a news release that the collaboration with IdentiGEN is about meeting the growing consumer demand for traceability. "We're providing our retail and food service customers with scientific evidence that they're getting high-quality, natural beef from animals raised the way we promised," he said.
Tyson will be using IdentiGEN's DNA TraceBack program to trace cattle in their Open Prairie Natural Angus Beef program. Open Prairie cattle, which are raised with no antibiotics, no added hormones and other rigorous animal welfare requirements, are already traceable to the ranch of origin. The addition of DNA TraceBack takes traceability one step further to the individual animal.
According to a Bloomberg report, tissue samples the size of a grain of rice will be taken from carcasses at the processing facility, and IdentiGEN will use proprietary sets of DNA markers to identify cuts of beef with individual animals. The markers do not change, regardless of how the meat is processed, thus making them a reliable trace-back to a specific animal.
Open Prairie cattle are sourced from independent ranchers in Nebraska, Montana, Washington, Oregon and North Dakota, and are processed at Tyson's Lexington, Nebraska, plant. Open Prairie makes up less than 10 percent of Tyson's beef supply.
Harrison also told Bloomberg that there could be more consumer applications of DNA tracking when the costs of sampling become cheaper.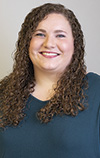 Carrie Veselka

Editor
Progressive Cattleman