Coleman and John Locke are fifth- and sixth-generation members of the J.D. Hudgins family. The father/son team operates one of the seven divisions of J.D. Hudgins Inc., a 110-year-old Brahman ranch on the Texas Gulf Coast.
Last year, Hurricane Harvey hit their operation with significant rain and flooding. Progressive Cattleman Editor Cassidy Woolsey spoke with them about the experience one year after the storm.
Explain to our readers what it was like when the hurricane rolled into your hometown of Hungerford, Texas.
John: We have seen many tropical storms and have been on the edge of numerous hurricanes. However, the thing that was different about Harvey was: It was predicted to be such a prolonged event. Honestly, we did not believe it could last as long as the meteorologists were predicting.
We spent the days in downpours and winds, moving cattle around trying to prevent heavy trampling and abuse of pastures, and making sure the nutritive requirements of our cattle were met and getting them situated in areas so they could be more easily moved away from potential flooding. Nights were spent waiting out tornado warnings and storm cells.
Were any preparations made prior to the storm?
John: Yes, our first concern was potential wind damage and securing buildings, barns, windmills, etc. Preparations were made for prolonged power outages such as stocking up on fuel, generators and even simple things like flashlights and batteries.
As rainfall totals rose, our attention shifted to the impending flood. We moved equipment to high ground and staged cattle on the highest ground near potential escape routes. Most importantly, we talked to people we knew we could trust to come running if we needed help.
We got a commitment from those people, and we put together a loose plan to execute if things went from bad to worse.
You mentioned the magnitude of the storm was bigger than you had anticipated; how much rain did you actually receive?
Coleman: We received from 16 to 18 inches of rain but 60 miles upriver it rained from 28 to 30 inches, so we expected a major flood. We contacted cattlemen from upriver, and their advice was we should be prepared for the worst flood we had ever witnessed in our area.
It was estimated Hurricane Harvey caused more than $93 million in livestock losses. What were some of the losses and damages to your operation?
Coleman: We observed very minimal livestock loss – two or three head. Many of our round hay bales stood in water from 1 to 3 feet deep, so there was a loss of over 200 bales. And with water covering our pastures for such a long time period, there was definitely a setback to our grass.
Then, after our grass recovered and came out fresh, we experienced an armyworm outbreak, which annihilated that new growth.
After the news coverage stopped and everyone outside of the storm resumed their lives, explain what it was like in the days and even months that followed.
John: The flood actually hit us two days after the winds died down and the rain stopped. We had spent several days preparing for the storm, a few days weathering the storm and, when the storm passed, we spent at least five days working to save cattle, helping neighbors and getting feed and hay to cattle that were struggling. It was exhausting, to say the least.
As soon as the floodwaters receded, and cattle were somewhat safe, fence and corral repairs had to be made. As soon as repairs were made, cattle had to be sorted, worked and taken back to respective properties.
As soon as cattle got back on the property, more fence repairs had to be made, and we had to figure out how best to take care of cattle with no grass.
It took at least 90 days before we started to feel a sense of normalcy again. The interesting thing was: After things got back to normal, what we would expect to be a time of rest and great relief, for some it was challenging. It was somewhat of a downer, after all the physical and emotional challenges of the experience.
Was there any one event or incident from last summer that will be your strongest memory of the hurricane?
John: The one experience I will probably never forget was being in the water with five other guys, not knowing whether we were making the right moves and doing what was best for the cattle. All of these guys had heard we needed help, and they came without hesitation.
One friend brought an airboat and had traveled about two hours to get to us. At one point, we found him in chest-deep water with a 200-pound calf in his arms while, at the same time, hanging on for dear life to the bowline of the boat, feet set and grinning from ear to ear.
He had dropped off each of his other two riders to carry a calf apiece and, since he was out of helpers, he killed the boat engine and dove in.
We did not lose a single cow or calf we saw in trouble that morning.
Now, one year later, is your operation all cleaned up and back to normal?
Coleman: At almost one year following the storm, it would be difficult for anyone to find any sign of the past event on our ranch. There are some watermarks on trees and structures, and we still see debris in fencelines, but we are totally back to normal.
Any suggestions you can give to producers, maybe not just those in hurricane areas but to all those that face natural disasters, on having an emergency preparedness plan? Did you have one?
Coleman: While we do not have a formal plan in place, it is very important to play the "what if" game as it relates to the decisions we must make during such emergencies. And we cannot overemphasize the importance of faith in God and prayer when dealing with such events.
PHOTO 1: Pictured left to right: Coleman and John Locke.
PHOTO 2: Flooding in Hungerford, Texas.
PHOTO 3: More than 200 of the ranch's hay bales were damaged due to the flood.
PHOTO 4: Friends and volunteers supplied airboats and labor to get hay to cows during the first two days of the flood. Photos provided by Coleman Locke.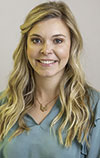 Cassidy Woolsey

Editor
Progressive Cattleman