Luke Jennings won the Culver's FFA essay contest with his essay on the 2018 FFA theme, "I can. We will." Jennings will be a freshman at Felicity-Franklin High School in Felicity, Ohio, in the fall.
He has served in leadership positions in both 4-H and FFA and has been showing cattle for over six years. Including the three cattle he is currently showing, Jennings has shown 14 cattle in his 4-H/FFA career.
Jennings is a one-third owner of his family's small beef herd. Altogether, they have eight cows, seven of which are bred, four feeder calves Jennings and his sister showed at the county fair, a fat steer and two more calves, totaling 15 animals – for now.
Jennings' FFA chapter received the grand prize winnings of $7,500 that will go toward covering expenses to attend the FFA National Convention in Indianapolis in October. He spoke with Associate Editor Carrie Veselka about his goals as a future member of the agriculture industry.
Q. What did you write about in your essay?
Jennings: In my essay, I talked about how, in the FFA, we have a motto and a purpose, a mission, a vision – all these different things and how they relate back to "I can. We will." I also described some different events my chapter does to express the "I can. We will" theme and how it's a very big concept in our small town.
Q.
You are a one-third owner of your family's beef operation. How does that work?
Jennings: One of my first heifers I showed, I bought, and she started having calves – and another one we bought, and she raised a few calves, and my parents have some, and my sister started showing, and she started buying them as well.
This year, we were thinking about it, and my cows were having better calves than sometimes my sister's were, and sometimes my parents' cattle weren't getting bred, and we were thinking how it wasn't really fair since we had all paid the same price and we were all doing the same work, so we decided to take how much each cow cost and figure out if we had all paid enough so I own a third of the herd, my sister owns a third, and my parents own a third.
Q. What are your plans for your animals and the operation?
Jennings: More than likely, when I get older, I plan to just have cattle more as a hobby than a second income, hopefully for my kids to show and learn from their experiences and understand the value of a farm. I'd rather have that as a second option and pursue another agricultural career for the primary income.
Q.
What careers are you interested in exploring?
Jennings: I am considering a couple of different careers. Either becoming an agriculture educator and FFA adviser or pursuing a career somewhere in agriculture communications or animal science.
Q.
How could FFA help prepare you for a career in ag?
Jennings: We have CDEs (career development events) that are different contests to help us learn more about parts of the industry. There's the veterinary sciences one where you learn how to give basic care to animals, or there is also meat evaluation from the livestock evaluation competition, along with different public speaking events.
A lot of times it's just different things where you just get pushed out of your comfort zone by the desire to try something new, and it has just turned into something you're becoming really passionate about and really enjoy.
Q. What have you learned through your experiences with FFA?
Jennings: What I have learned through FFA and this essay is to live in the moment. When you're doing something, even if you might have something else to prepare for only weeks ahead, focus in and don't lose yourself in all the things you have to do but rather live in the moment and take in all of the experiences you can because, before you know it, you have to go to college and that time will just be gone.
So live in the moment and don't look too far ahead and worry about what is to come.
PHOTO: Luke Jennings is pictured with some of his growing beef herd. Photo provided by Holly Jennings.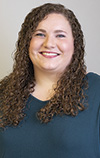 Carrie Veselka

Associate Editor
Progressive Dairyman