Many cows across the Midwest entered the breeding season in less-than-ideal body condition. Research has shown body condition score (BCS) is directly related to postpartum interval, or the number of days from calving to the subsequent calf conception.
While cows in a BCS of less than 5 are capable of rebreeding, thin cows (BCS 4 or less) do have a longer postpartum interval and are less likely to conceive in the 85 days post-calving that is necessary to maintain a 365-day calving interval.
For some herds, pregnancy rates may be lower than normal this fall. Seasonal market prices of non-fed beef typically bottom out in October through December, so be proactive and consider pregnancy checking cows earlier to hopefully hit a higher market. Now is a good time to start developing a plan for what you might do if you find yourself in a situation with a large percentage of open or late-breed females.
If feed resources are inadequate, options are likely limited to selling open or late-bred cows as soon as possible. Likewise, older, poor-structured or bad-attitude females are naturally good candidates to cull if feed inventory is tight. If feed resources are adequate, adding weight to these females may increase salvage value. However, minimizing feed waste is important.
Younger females who may have failed to breed in the desired window for reasons outside of their control, including insufficient bodyweight at the start of the breeding season, may be good candidates for starting or rolling over into a fall-calving herd. Holding these females open for a few extra months offers an opportunity to regain bodyweight and increase the likelihood of early conception in the fall breeding season. While it may be costly in the short run, cows of good age and condition may return higher yields as a fall-calving cow compared to being sold for pound price.
If the goal is to add bodyweight on cows before selling or fall-breeding, consider early weaning calves (before 180 days old), as ceasing lactation dramatically reduces cow nutrient requirements. Work with your local extension beef specialist to determine a plan specific to your operation's needs for managing open or late-bred females.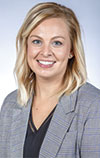 Erika Lundy

Extension Beef Program Specialist
Iowa Beef Center - Iowa State University