August is the time to start stockpiling forages for winter grazing, which can aid in reducing winter feed costs. For stockpiling, generally pasture acres are not grazed for the last 70 to 80 days of the grazing season, allowing forage to recover leaf foliage and yield.
For maximum forage yield potential, nitrogen fertilization is a necessity and should be applied at the beginning of the stockpiling period. Research from Iowa State University suggests applying 40 to 50 pounds per acre of nitrogen can boost stockpiled forage yields by 50 percent.
While many grass species can be stockpiled, tall fescue is the most common grass species to be stockpiled, primarily because of its fall growth potential.
Another advantage to stockpiling tall fescue is: Palatability is often an issue during the normal grazing season but, when grazed in the late fall or winter, palatability becomes less of a concern, and forage quality maintains relatively high.
August and September tend to be months of pasture shortage for many producers during the year. However, grazing stockpiled forages in October and November can help fill in the gap between pasture and crop residue grazing.
While weathering losses will decrease residue quality rapidly, stockpiled forages hold nutritional value much better. Therefore, if possible, graze corn residue prior to stockpiled forages to capitalize on nutritional value.
Utilizing strip grazing or other grazing management will aid in extending forage utilization. Remember, if given the choice, cattle will select the highest-quality forages first. If not managed properly, cattle will be forced to consume the lowest-quality forage toward the end of the stockpiled grazing period.
Depending on your operation, additional supplementation may be necessary to meet requirements of certain classes of cattle, including lactating females, third-trimester pregnancies, or growing calves or replacement heifers.
With thoughtful planning, grazing stockpiled forages through the winter may become an economically important part of the cattle enterprise.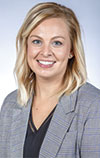 Erika Lundy

Extension Beef Program Specialist
Iowa Beef Center - Iowa State University