I was recently asked to give a presentation on "How to make money in the cow business." Whether you are running 40 or 400 cows, money can routinely be made in the cow business, but it takes good planning, recordkeeping and decision-making.
Notice I said money "can" be made, not "will" be made; it depends on how each operation is run. While many folks are looking for the silver bullet or one or two simple things to change, in reality we have to evaluate the whole operation and often make several small improvements across the board.
Good planning starts with deciding on realistic goals for the operation and developing a budget. Is the primary goal to make money, or is having cattle part of a lifestyle choice and making money is just a nice result when it happens? Some critical plans for the operation include:
A forage management plan
A breeding and calving season plan
A herd health plan
A marketing plan
The forage management plan is likely to have the biggest impact on the success or failure of the operation. This is especially true for owner-operators who live out of town.
Record-keeping is critical to know what all the expenses and income are for the operation. It is difficult to make money if you don't know what your annual cow costs are per year. It is also important so individual animal performance and herd production parameters can be evaluated and improved. In commercial operations, weaned calf crop percentage (number of females exposed to bulls divided by the number of calves weaned) is the most important herd production parameter affecting the financial success of the operation.
Budgeting and record-keeping software does not have to be complex. Many university extension groups provide free spreadsheets to help with these tasks. Example spreadsheets for annual cow cost budgeting and recordkeeping can be downloaded (beef.tamu.edu). Additionally, private companies offer software packages for purchase that provide more features and options which many folks have found beneficial for their operations.
Good decision-making starts with gathering good information and making a sound decision for the short- and long-term success of the operation. Oftentimes, good decision-making is more about avoiding poor decisions. Poor decisions are often made because of the perception that something is too expensive without knowing the actual cost and considering the return on that investment.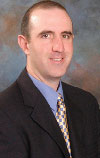 Jason Banta

Associate Professor and Extension Beef Cattle Specialist
Texas A&M University