With November here, it is time to make sure cattle are ready for the winter. November or December is the time when most operations treat cattle for lice. Lice are easily transmitted from animal to animal, so it is critical to treat all animals in the herd and also to treat any new animals before introducing them.
Biting lice feed on skin, hair and sloughed skin cells; while they don't suck blood, they can create an animal welfare issue. In contrast, sucking lice penetrate the skin and suck blood, which can lead to significant reductions in animal performance when infestations are severe. Sucking lice species include the long-nosed cattle louse, the short-nosed cattle louse and the little blue cattle louse.
Although lice can be found on cattle year-round in untreated herds, their numbers increase during the fall and winter as cattle grow a longer, thicker hair coat. This thick hair coat provides a better environment for lice, increasing reproduction and survival rates. Signs of a severe lice infestation include rubbing on fenceposts, trees and other objects as well as loss of hair on the neck and shoulder.
Treatment strategies will vary depending on what insecticide and route of administration are used. It is important to check product literature and the label of each product to see guidelines for lice control.
In general, the macrocyclic lactone pour-on dewormers with moxidectin, eprinomectin, doramectin and ivermectin will take care of both biting and sucking lice with one treatment. However, the injectable versions of these products will only get sucking lice. If injectable dewormers are used, cattle should also be treated with a topical pyrethroid product to control biting lice.
There are numerous pyrethroid pour-on products routinely used for horn fly control also labeled for lice control. With the exception of a few products, most of these pour-ons will require cattle to be treated twice (two to three weeks apart) to break the life cycle of lice. However, there are at least four pyrethroid products that only require one treatment to break the life. These include Standguard, Saber, UltraSaber and Clean-up II.
Cattle tail lice are another species of sucking lice. They are considered a tropical lice species and are generally not found in the south-central region except potentially along the Gulf Coast. For additional treatment recommendations, visit with a livestock entomologist, veterinarian or extension professional in your area.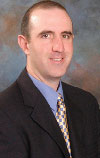 Jason Banta

Associate Professor and Extension Beef Cattle Specialist
Texas A&M University