What better time to talk about technology than during this pandemic? We have all been stretched to our limits with the use of technology over these months of virtual content. Schools, churches, livestock producer meetings, national conventions and numerous other programs and events have been impacted.
We can even take a moment to highlight some of the positive notes from a very dim situation.
From the perspective of an educator and facilitator of programs, we have been able to connect with participants and guest speakers that, in a normal setting, would not have been possible due to travel, schedule obligations, budgets and other barriers. In addition, we've never had more information and technology options at our fingertips than we do in this "new normal."
There is also a powerful renewed interest in our business from local customers and people wanting to reconnect with agriculture and local food. Can we embrace technology more in our industry? Absolutely, we can. Virtual programs continue to draw large crowds from multiple states and countries, but it is our job to maintain that momentum and not be so eager to return to the "old normal" that we lose sight of any good that might be pulled from the "new normal."
So at the end of the day, how do we make lemonade out of lemons? Let's challenge each other to be understanding of each perspective, work to try something new and focus on the present. What type of technology could you use in your operation? If you have not tried them already, here are some ideas: EID tags, digital scale head, financial software, online marketing, social media, maybe some type of enewsletter, genomics, cattle management software or numerous other platforms and solutions.
I would encourage each operation to identify one place to "stretch" your technology use in your operation. Genomics is a place many producers may not consider as technology – but make no mistake, it is a very powerful technology. The Clemson University CU iCow program focuses on how to translate some of these technologies being developed for commercial cattle producers. In this ever-evolving situation, be present; no matter how you are meeting, be active in communicating with your local industry leaders (even if that communication looks different) and, most of all, let's be creative and open-minded about how we navigate the future.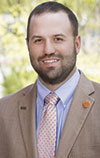 Matthew Burns

Extension Beef Specialist
Clemson University