I hope this article finds you and your family doing well. This time last year, none of us could have foreseen 2020 unfolding the way it has. We have all been negatively impacted by COVID-19 in at least one significant way.
However, there is an old adage that says, "In every crisis, there is opportunity." So I want to take a few minutes to reflect on the year, its challenges and the amazing perseverance and innovative spirit so many Americans have shown.
Agriculture never stops. Critical to our nation's infrastructure and food supply, we could not simply shut down and wait. When the pandemic hit, everyone had to adapt. We operated under modified conditions or other constraints to keep our valuable services available. Small farms, industry and government offices like extension and the USDA continued to operate as essential entities. We have embraced alternative ways to meet the demands of our clientele.
Maintaining connection became an intentional practice. Technology, sometimes reluctantly, has been used in new and critical ways to keep our society functional. Also, more so now than ever before in human history, we have more ways to connect to each other and prospective clients. Consumer interest in local food and an earnestness to support small business during this pandemic has presented lots of local marketing opportunities.
Even large agricultural producers have connected with local consumers due to interrupted food chain supply. While some of these connections may be lost as we return to the "new normal," other connections and opportunities have been identified as viable strategies to maintain in business plans as we move forward.
Life and business have certainly been altered. I encourage us as an agricultural industry to seize on opportunity we have been afforded during this crisis. As we move into a new year, it is imperative that we do not lose sight of the lessons learned and resilient spirit we have acquired during this time.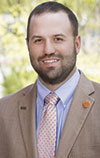 Matthew Burns

Extension Beef Specialist
Clemson University