As the year comes to an end and we gear up for another calving season, I believe we are all thinking, "What can I do best this year for my cows?" This past year has taught us the importance of having a plan; droughts, fires and water shortages have forced many producers to make difficult management decisions to ensure the viability of their herds.
Those cows that have made it to calving are the true "keepers"; it is important that we do what is best to take care of them and their soon-to-arrive calves.
The first thing that probably comes to mind when someone talks about calving-season preparedness is scours prevention. Scours can be extremely difficult to manage once pathogens arrive in the calving herd. Before you even start calving, think about what you can do to prevent an outbreak.
Try taking a more systematic approach to your upcoming season. A few questions to ask yourself are: Where are my cows going to calve out? Will the field be dry or easy to spread fresh straw on to keep the calves dry and comfortable those first few weeks of life? Do I have a sick pen, or a few sick pens, to isolate in if needed? Do I have lime and plenty of straw to sanitize and bed down between pairs? And, most importantly, do I have medications on hand to treat a sick calf? Asking these questions can help guide decisions on what protocols are feasible for you to implement with the facilities and manpower you have. This will give you a starting place to be better prepared.
Consult with your veterinarian on what vaccinations are recommended for your area. Having healthy and vaccinated cows makes managing scours a more feasible task. Cows that have adequate colostrum, with the appropriate antibodies, set calves up for a higher success rate of fighting off disease. Make sure you have a nutrition plan in place as your cows enter late gestation. Cows that go into calving at a body condition score (BCS) of greater than 5 will tend to have an easier time calving, leading to less stress on calves so they are able to stand and nurse more quickly.
Finally, make sure you have all your bedding and cleaning supplies on hand. Having a systematic approach in place can help in managing stress during the calving season for yourself and your cattle.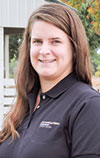 Carmen Willmore

Extension Educator
University of Idaho Extension – Lincoln County