Recently, more ranchers are making the transition to finishing and marketing their cattle through directly marketing to consumers.
With this increase in direct marketing, there is also a need to formulate their own finishing ration, mainly utilizing feeds already grown or purchased on their ranch.
When formulating a finishing ration, consider what feeds you might already have in stock. Consider your alfalfa hay, grass hay or corn silage for roughages. Next, you might see what feed barley, corn or oats you might be able to purchase from a neighbor or keep from what you raise yourself. Other feed products that might be available are beet pulp and potato waste. It's important before developing a ration to have the feed value of all your ingredients.
Most feed labs can run a wet chemistry test on feeds and can give you protein, total digestible nutrients (TDN) and relative feed value (RFV), which you should use to formulate your ration. To help formulate a ration that works for your herd, contact your local extension agent for programs that make ration formulation calculations easier.
Most on-ranch rations will consist of roughly 30% grain and 70% hay when you start on feed and transition to 70% grain and 30% hay by the time they are finished. How you process and feed your rations will depend on what equipment you have at your disposal. If you have a drum mixer, you can mix more wet feed into your ration, like beet pulp and potato waste. If you don't have a mixer, you can still top-dress your roughages with your grain and concentrate feeds to increase energy intake.
Cattle are ruminants; their digestive systems are designed to digest and utilize roughages with little amounts of grain. The first day on feed, aim to feed 1 to 2 pounds of concentrate per head per day starting at 15% to 16% protein to meet the needs of your cattle without risking acidosis. Over the next 14 to 28 days, you can gradually increase the pounds of concentrate by 1 pound every three to five days until you reach the amount of your final ration. Be mindful of the cost of your ration and set your beef price based on that.
Overall, finishing your own cattle and directly marketing to the consumer can be profitable; be sure to utilize lower-cost feed options, as well as be mindful of best feeding practices.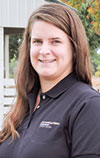 Carmen Willmore

Extension Educator
University of Idaho Extension – Lincoln County