Spring is right around the corner, and as a rancher, it's a hectic time of year. Whether you're calving, getting cattle ready to head back to pasture or planting feed, you'll be busy from sunup to sundown. While you're planning and organizing your spring tasks, now is also the time to think ahead.
There are many chores and things to do that come up at this time of year, and it can sometimes be hard to keep track of them all. Here's a list that can help you ensure your cattle equipment and facilities are set for a successful spring.
1. Conduct an inspection
Take a tour of the facilities at your ranch and any other location you have livestock. Inspect pens, outbuildings, livestock equipment and machinery for signs of wear and tear. Your tractors, feed equipment, squeeze chutes, alleyways, tubs and sorting pens require upkeep and maintenance.
Thoroughly inspect and run through all your equipment to ensure it functions properly in case you need it at a moment's notice. Look for cracked welds; missing parts; malfunctioning doors, latches and moving parts; or any damage and note it down. Keep a list of any maintenance, repairs or replacements that need to be done, then prioritize the most urgent tasks.
2. Walk your system and fencelines
One of the first steps to ensuring your cattle handling system and pastures are secure and ready to accommodate cattle once again is to assess your system and your fencelines. Walk your system from front to back and note anything that needs maintenance or replacing.
Once that's complete, take the time to walk the fencelines of your pastures and keep an eye out for any downed fence; broken or loose rails, wind fence, posts; and missing staples or insulators.
Use flag tape or spray paint to mark the areas in need of repair or attention so you can easily find them later. You can also fix them on the spot if you decide to bring along extra fence posts and fencing supplies to get it all done in one shot.
3. Complete small, quick repairs
You may choose to undertake small repairs and quick fixes yourself, pass them off to a hired hand or get your family together to complete the job quickly. Before starting these tasks such as fence repairs, patching damaged buildings or installing new panels and gates, be sure you have the necessary equipment to complete the job before you start.
Nothing is worse than heading out to repair a fence line only to find that a post has broken off and needs replacement, but you didn't bring any posts with you. Then it's back to the yard you go, and precious time is lost.
4. Bring in experts when necessary
For major repairs or replacement of farm machinery, livestock equipment and even buildings, sometimes it is best to bring in an expert. Keep in mind that this is one of the busiest times of the year for servicing livestock equipment and farm machinery. Be sure to make arrangements for service calls and order parts as soon as possible.
It's often helpful to also ensure that you do business with companies that stand behind their products. Before investing in equipment, take the time to research companies, talk to their current customers and ask yourself: Do they have a customer service team that is available 24-7 or only during office hours? Is the equipment covered by warranty? Are the parts easy to order and replace?
5. Spread out manure
This step should be considered before your animals go back to pasture, if you spread manure in the spring as fertilizer. It can also be done after your cattle are back in the pasture if you prefer to spread manure in the fall before they come home again, so you have full access to your entire system.
Look into tools and machinery that can help you spread or remove manure easily, if you don't already have equipment handy. Even a skid steer or tractor with a bucket will get the job done right. When spreading manure, consider investing in a manure spreader to ensure an even layer is spread across your pasture with no missing spots or large clumps to provide optimal growth and grazing for your livestock.
6. Get administrative tasks organized and off your list
Administrative tasks often seem to be left until the last minute. As easy as it may be to put them off, it is important to complete these tasks in a timely manner so you can properly manage your supplies, costs and your bottom line. Whether it's getting your annual tax return in order, filing invoices, renewing land leases or revisiting contracts with suppliers, pick a day and a time to sit down and get it done.
Checking some of these items off your to-do list and planning in advance for the year ahead will help ensure that you're set up for success. You'll feel much better, and any burden you may feel on your shoulders will get a little lighter after you've organized your spring tasks, and you can move into the season with peace of mind.
PHOTO: Take the time to make sure your facilities are ready for the next season of working cattle. Photo courtesy of Arrowquip.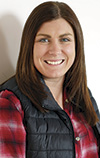 Janelle Hulme

Content Manager
Arrowquip