For producers with many or large pastures, portable corrals may be what's needed to round up and work cattle.
Joe Watt, a cow-calf producer near Rock, Kansas, decided to invest in a portable corral from Rawhide Portable Corral four years ago. Prior to the purchase, Watt was setting up cattle panels in the pastures.
"It was a pain to keep moving them around, and we're just driving posts and setting them up. Sometimes they'd be pretty easy to knock down," Watt says. "That took a lot of trips to set up and take down."
Watt chose Rawhide's smallest portable corral with an alleyway. The Rawhide standard corral can hold 40 to 50 pairs or 80 to 100 yearlings.
Besides the standard, Rawhide also makes a large and super-large, which can hold 140 to 150 pairs or 280 to 300 yearlings. He usually sets up a little calf cradle or a squeeze chute at the end of the alleyway.
He has several small pastures where he works 18 to 30 pairs at a time.
Saving time and labor
Sarah VanDerVliet, who works with her husband, Ryan, on their crop, cow-calf and feedlot operation near Colton, South Dakota, bought an O.K. Corral from Titan West Inc. a year ago. Her family uses it to work cattle out in the pasture, run calves through it and sort pairs. Her cousin borrows it to gather cows for embryo collection.
Prior to purchasing a portable corral, VanDerVliet was using cattle panels they would have to haul out to pasture, set up, work cows, tear down and haul them home. Their corral can hold 80 cows, 50 pairs or 100 yearlings.
"We have four different pastures, so that was a pain in the butt," she says. "This is so much faster."
VanDerVliet said the portable corral was worth the investment. They borrowed one before making the purchase and found out how much easier it was to work cattle.
Mary McDonald, Rawhide co-owner with her husband, John, said most of their customers are cow-calf producers with a few stocker/feeders. They decided there was a need for a portable corral because of the amount of leased pasture.
"You don't own the pasture. You don't want to build permanent on it. The landlord isn't typically going to put the money out to put a catch pen on it," she says.
Being able to move the corral from pasture to pasture has been an attractive option for producers because they own the corral but may not own the pasture.
"It doesn't stay on the ground that you don't own. If you lose that lease, you still have that corral for another pasture you can lease," Mary says.
Watt likes using his portable corral since most of his pastures have old, beat-up pens that were in need of repair or replacement.
"The ones that were there were getting so old that they'd have to be rebuilt or something else. With this, I can just take it to whichever pasture I need it," Watt says.
With the cost of constructing replacement corrals in each pasture, producers may be better off financially to invest in a portable corral. Mary says their corrals range from $14,900 to $25,000. Those prices range from their most basic to their super-large with all the options.
Before you buy
Iowa State University Extension beef field specialist Beth Doran says producers interested in portable corrals should do their research before making the purchase. First, check the sturdiness of the corral.
"Obviously, you'd like to have them light enough to move them around. By the same token, the disadvantage of that is when you get them too light, then that steel's not as strong," Doran says.
Doran suggests checking them out in person and lifting them first.
She also recommends checking hinges to make sure they are easy to engage. Doran advises to check latches for the most secure pen.
While Doran has not seen too much use of portable corrals in northwest Iowa by producers, she has seen some veterinarians using them.
She also suggests checking the height of the fences.
Rawhide Portable Corral manufactures all of their corrals at their headquarters in Abilene, Kansas. The panels stand 6 feet tall and are made of 2-inch round 14-gauge tubing. The main frame, which consists of the alley and trailer for everything the panels fold up next to, is made of 3-inch-by-3-inch, quarter-inch-thick material.
After four years of using his portable corral, Watt said his system is holding up well. He has a hydraulic cylinder that has started to leak – but said anything with hydraulics is bound to leak at some point.
Mary says customers can customize the corral to meet their needs. They can add a headgate, loading chute or hydraulic squeeze on the alley.
"John's ability to build a portable corral that's based off hydraulics, that's what does all the lifting is hydraulics," Mary says.
VanDerVliet's O.K. Corral does not have hydraulics, but she said setting the corral up can be done by one person or with the help of their 11-year-old son, Weston. Her husband said the corral has been a lifesaver.
The construction of the panels and gates are made of 1½-inch square 14-gauge. The corrals have two cane latches on 10-foot sort gates. VanDerVliet also likes that their portable corral has a place to haul a four-wheeler and other livestock supplies.
The VanDerVliets set up their portable chute with a tub to use with their portable corral, which they have had for 10 years.
Watt likes the alleyway he has on his corral. He can adjust it from about 16 inches wide to about 3 feet wide.
"It's easier, if you've got to work something, to get them in a small area where you can control them better to get them to the squeeze chute or whatever kind of chute, or you can back the trailer up to it and load them right out of it," Watt says.
All of their corrals hook up to a pickup and fit through any opening the pickup fits through. Watt likes that he can hook up his portable corral and haul it down the road.
Watt said it takes about 15 minutes to set up when he has someone to help him and about 20 minutes if he's alone. Teardown takes about the same time.
"The hardest part is remembering which way to fold it. We've got it down now. It's easy to do once you remember how to do it right," Watt says.
There are several companies that manufacture and sell portable corrals. Each of these companies has different styles and designs to fit each producer's unique needs.
PHOTO 1: Weston VanDerVliet hooks up their O.K. Corral to take to pasture. Photo courtesy of Sarah VanDerVliet.
PHOTO 2: Portable corrals provide convenience and ease to work cattle on pasture, compared to the alternative of deteriorating permanent corrals or hauling cattle panels. Photo courtesy of Rawhide Portable Corral.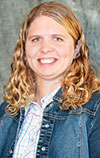 Wendy Sweeter

Freelance Writer
Worthing, South Dakota
Before commenting on our articles, please note our Terms for Commenting.