Some say, "A carpenter's house is never finished." I'd say it's a similar situation with cattlemen. Often, it's their own facilities and equipment that are the last to be maintained or repaired.
They're always looking out for neighbors and family members, lending a helping hand to others; however, putting off much-needed maintenance can be hazardous for producers, their labor and cowboys, as well as the cattle being processed.
Next time you're gearing up to work cattle, I strongly recommend working with your veterinarian to assess specific protocols for your own operation. Also, I would encourage you to consider implementing the following checklist to prioritize cattle health and performance.
Working facilities
Eliminate injury and unnecessary downtime.
Follow the path to the chute (for both laborers and cattle) to see whether there is any damage that may require repair.


Check for broken welds, exposed nails and thick brush or debris that could result in injury.


Look for any areas on the working facilities that could benefit from oil or grease.


Cover low-hanging objects with foam padding, and spray paint the foam padding bright orange to draw attention to help reduce risk of injury.
Animal health equipment
Perform maintenance to help ensure health and performance success.
When not in use, make sure implant guns, parasite control applicators and vaccine syringes are stored in dry, clean areas where dust doesn't collect.


When using multidose syringes, make sure equipment is working properly. Double-check the syringe washers are in good shape with no dry rot. After using a multidose syringe, it is important to clean it with hot water by flushing the water through the barrel of the syringe. Never use soapy water in vaccine syringes.


Confirm you are administering an accurate dose with multidose syringes. One way to accomplish this is by setting the syringe at an appropriate dose volume and using water in the syringe to confirm that syringe is still accurate.


Deburr, sharpen and disinfect implanting needles before properly storing to help minimize injection irritation and bacterial contamination that can lead to increased risk of abscesses and missing implants.


Check expiration dates on animal health products and adhere to all manufacturer guidelines.


If you have scales installed on your chute, check to make sure they are working properly. If there is tall grass, dirt or manure underneath, it's not uncommon for the weight to be off and cattle bodyweights to be light.
Refrigeration
Monitor closely to help ensure efficacy of animal health products.
Regularly check vaccine handling procedures, including refrigerator temperature and administration processes, to ensure vaccine efficacy is not being compromised.


Read product labels to determine appropriate storage temperature. Most vaccines require refrigeration at 35ºF to 45ºF.


At processing time, store vaccines in a cooler to help maintain proper temperature after refrigeration and avoid ultraviolet light, which can threaten a vaccine's effectiveness.
With continuous maintenance and attention to your working facilities and equipment, you can help reduce stress on both your employees and cattle. Make sure your processing equipment is ready to work as hard as you plan to. For more information, please visit with your local [animal health care] representative or veterinarian.
PHOTO: Maintaining your equipment and storage areas are critical steps in ensuring product performance and efficacy. Photo courtesy of Zoetis.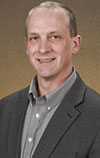 Mark Alley

Beef Technical Services Veterinarian
Zoetis
Maintaining equipment and facilities: A cattlewoman's perspective
"If you do your little jobs, your big jobs will get done."
Those are words spoken by John M. Queen Sr. that Lisa Shelton, farm manager with John Queen Farms and past president of the North Carolina Cattlemen's Association and Beef Council, has heard her whole life. "It's a small statement that has a huge impact," she said.
Shelton manages a family farm belonging to John Queen, a sixth-generation cattle producer. Along with being a backgrounder and stocker operation, they operate a weekly livestock market, monthly video sale and buying station.
Shelton has always been a big proponent in chuteside education. She also places great importance on maintaining her operation's working facilities. It is a team effort for Shelton to maintain the facilities.
Facility and equipment maintenance is important for employee safety as well as the safety of animals being worked. Maintenance is accomplished with efficiency and savings in mind. Shelton credits their attention to maintenance for the longevity of their equipment.
For Shelton and her crew, it takes only a short time to clean up and ready the facility for incoming cattle; however, this attention to detail can potentially save an average $10,000 when a producer considers the cost of replacing a chute due to lack of maintenance.
After processing cattle, Shelton's crew cleans up, washes and disinfects equipment, and performs any general maintenance that's needed. Cleanup is not only important for facilities but also for animal health products such as vaccines, implants and applicators.
She washes, labels and dries syringes and needles after use and stores them in a zip-close bag in the refrigerator. She takes all precautions to avoid damage from the elements that could affect product efficacy.
For guidance on maintenance of facilities, as well as proper protocols for administering and storing animal health products, Shelton has always looked to several industry connections for trusted advice – beginning with veterinarians – as well as seeking input from resources such as universities, extension and fellow cattlemen.
"I depend on my resources, and I'm blessed to work with people like Dr. Mark Alley," Shelton said. "Veterinarians like Dr. Alley were so willing to teach me things I could pass along to other producers. When producers select an animal health company, it's not about how many hats they can give me. It's about their service."
For Shelton, facility maintenance is a no-brainer. "This is a little job you do to better your operation. While not every facility can be perfect, if you practice good stockmanship, you can accomplish a lot. Like John M. Queen Sr. always reminded me growing up, 'If you do your little jobs, your big jobs will get done.'"