It is no secret that handling cattle can be stressful for both bovine and humans alike. When considering ways to incorporate key infrastructure systems aimed at reducing stress during handling, flooring is almost always on the list of things to think about for producers.
Rubber flooring systems in processing areas and housing facilities has seen a rise in attention by both scholars and manufacturers, and for good reason.
Temple Grandin, professor of animal science at Colorado State University, who has focused much of her career on production animal welfare and behavior, notes that non-slip rubber flooring systems can greatly reduce slipping and falling in areas such as chute exits and unloading ramps.
The importance of reduced slippage, she adds, is cattle will quickly grow agitated if they cannot keep their footing, which is common in confined, high-traffic areas.
Bill Halfman, University of Wisconsin extension agent, also sees numerous benefits in non-slip rubber flooring in reducing stress.
"The biggest advantage I see [with non-slip rubber flooring systems] has been in reducing slips and falls, which helps give the cattle confidence to walk freely as they are moved around," Halfman says. "In some instances, the rubber mats may serve to help reduce sound echo and make for a quieter [processing] area."
Dr. Rhonda Vann, research professor with E. G. Morrison MAFES – Brown Loam Experiment Station, a part of the Mississippi State University research system, notes that rubber-flooring systems could reduce lameness and increase overall comfort.
"Other benefits [of rubber flooring systems] include significant decrease in lameness issues associated with cattle slipping upon exiting a chute and a reduction of bruising, cuts and scrapes as a result of falling or slipping," Vann says. "For housing, it is easier on the animal's joints and feet, which increases animal well-being compared to straight concrete floors due to the increased comfort."
"In addition, the rubber mats also serve to reduce slippage and fatigue in the people working the cattle too, and it is common to see mats where people stand when working cattle," Halfman adds.
Types of rubber flooring
There are various types of rubber flooring available. Like all things, however, there is no Magic 8 Ball to tell you which type is best for everyone. It behooves managers to first consider the goal of incorporating rubber flooring and the type of rubber.
"The biggest thing to pay attention to is that the rubber mats offer good traction, either through grooves and texture of the surface, and the type of finish on the surface," Halfman says. "This is particularly true if re-purposing rubber mats that had a different original use, for example, conveyor belting.
Some of them can be slick when wet, which is what they were supposed to be for their original use, but that would be troublesome for cattle."
The research facilities at Mississippi State University that Vann works with have seen success in the solid rubber mats and mats made with intertwined baler belts.
Rubber flooring has been incorporated into both the processing chutes and in housing pens at this facility, which Vann says has worked well to reduce slippage and lameness issues associated with poor footing.
For processing facilities, Grandin recommends interwoven tire mats, such as those produced by Double D Cattle Mats out of Park, Kansas. A product developed out of scraps, this family-owned company designed their rubber mats around the needs of their feedlot operation.
Dale Geotz, founder and developer of the company, had witnessed firsthand the detrimental impacts that cattle slipping can have on an operation throughout a lifetime of working in feedlots.
To help his family ride out the ebbs and flows of the cattle market, he wanted to diversify his interests by building strip doormats from old and used tire sidewalls. Over time, he found other uses for this scrap rubber.
"He wanted to find a use for the discarded tire treads, and a fellow feedlot owner asked if he could use them in the chute area," Christin Merwald, marketing and sales manager of Double D Cattle Mats, says. "That question inspired him to develop a solution that addressed both his tire-tread disposal goal and the problem of cattle slipping."
Concrete versus rubber
While concrete has long been chosen as a replacement to dirt floors in high-traffic areas, such as processing chutes and pens, rubber flooring has shown to improve slippage rates comparatively.
It is often a logistical challenge to score and cure concrete in such a way that it is conducive to slippage reduction in heavy traffic areas, such as exits from a chute. Halfman notes that non-slip concrete systems can cause more harm than good in some instances.
"Textured concretes can still be somewhat slick, depending on conditions and maintenance over time," Halfman says. "It is important to review specs for grooves [when pouring], because if done wrong [the system] may not be sufficient, and if it is too aggressive it can injure feet."
Non-slip rubber flooring can also pose similar challenges as scored concrete when dirty or slick and, as Halfman notes, concrete can be easier to clean with skid loaders and scrapers compared to rubber mats, which can easily be damaged by heavy machinery.
Vann adds that while rubber flooring can be expensive to incorporate throughout a facility, concrete systems can be more expensive if texture or non-slip grating is not done when the concrete is poured.
"The biggest drawback [to non-slip rubber flooring] that I am aware of, is depending on where the rubber mats are and the type of mat, can make cleaning the area a little tough," Halfman adds. "Skid loaders can tear them up if not careful."
Vann also notes that rubber mats can be difficult to clean and can easily move around without anchoring to something.
"You can actually attach [rubber flooring] to concrete permanently – then it does not move, but it can be extremely difficult to clean out debris from under the mat," Vann says.
Key locations
It may not be feasible to incorporate rubber flooring throughout a facility, but both Vann and Halfman offer advice on the most important locations to consider non-slip flooring.
"The most common area is the exit area from the squeeze chute," Halfman says. "Another area it may also be beneficial to have [non-slip rubber flooring], is where they load and unload trailers, as those are times cattle are in a hurry to be someplace else."
Much of Grandin's flooring research and best-handling recommendations originally focused around processing facilities. She and Vann both suggest a non-slip flooring of some sort in situations where there is increased pressure on animals in high-traffic areas, resulting in an increased likelihood of slippage, such as the entrance to a processing facility.
For feedlots and holding pens, rubber flooring atop concrete slabs can provide better footing and reduce lameness issues as a result of hard ground, similar to practices that are growing in popularity among dairies.
Regardless of the budget, however, non-slip rubber flooring can be a solution for many different lower extremity ailments in your herd.
"[Non-slip rubber flooring] will not totally eliminate some instances of lameness or slipping of cattle, especially upon exiting a chute, but it does greatly minimize the instance of this occurrence," Vann concludes.
PHOTO: Rubber flooring in cattle-handling facilities can prevent lameness and exhaustion in cattle, and reduce noise in the facility. Photos courtesy of Double D Family Mat Shop, Inc.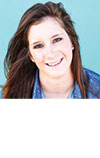 Danielle Schlegel

Freelance Author
Whitewood, South Dakota