Corn silage can be an economical feedstuff in finishing diets, especially when corn prices are high.
Feeding corn silage gives cattle feeders the opportunity to capitalize on maximum quality and tonnage of the whole corn plant, while stockpiling large quantities of feed.
Considering forage prices, feedyards with bunker storage or flat storage should consider silage this year, even if only used as a roughage source.
Partially replacing corn with corn silage in finishing diets containing distillers grains has been shown to lower average daily gain (ADG), which in turn contributes to less favorable feed conversions. As a result of the reduced ADG, additional days on feed (DOF) are required, which leads to increased yardage and interest expenses.
However, depending on the price of corn, the reduction in total feed costs associated with feeding economically priced corn silage and distillers grains can often offset these expenses. Economic data from the University of Nebraska – Lincoln showed a reduction in cost of gain and increase in profit per head as corn silage inclusion increased when corn silage was priced at eight or eight-and-a-half times the price of corn (as-fed basis) standing in the field, regardless of corn price.
When pricing silage, there is no cost to combining, and manure nutrients should be appropriately used to replace nutrients often charged against the silage in the forage portion. Likewise, if shrink is managed well (i.e., less than 15%), silage can be quite economical at 70% or less the price of corn delivered to cattle on a dry basis.
To further evaluate the effects of elevated silage inclusion levels on growth and economic performance of finishing steers, the University of Nebraska – Lincoln conducted a study that compared feeding a typical backgrounding and finishing diet to feeding a consistent level of silage throughout the entire feeding period. Silage inclusion levels were as follows (dry matter basis):
75% silage for 70 days followed by 15% silage until marketed (background/finish)


45% silage for the entire feeding period (high-silage finishing)


15% silage for the entire feeding period (low-silage finishing)
Feeding the background/finish diet resulted in similar growth performance and carcass characteristics to cattle fed the high-silage finishing (45%) diet. Cattle fed these diets had lower daily gains, poorer feed efficiency, and required 28 more days on feed to reach a common backfat endpoint than cattle consistently fed the low-silage finishing (15%) diet. However, final bodyweight, carcass weight and rib-eye area were greater with the background/finish and high-silage finishing diets.
Most importantly, this resulted in additional returns of $43 per head for cattle on the high-silage finishing and $27 per head for cattle fed the typical background/finish diet. Even with the additional DOF, feeding 45% silage throughout the entire finishing period can be a profitable option for cattle feeders.
The replacement of corn with corn silage and distillers grains in finishing diets becomes more economically favorable for cattle feeders during times of high-priced corn. Feeding elevated levels of corn silage in finishing diets provides an opportunity for farmer feeders to take advantage of an accessible, cost-effective feed resource, especially when produced on their own acres.
Visit 2018 beef cattle conference for more information on silage production and management.
PHOTO: The effects of using corn silage in a finishing ration include some possible reduction in daily gains. But the benefits of lower feed costs can still provide a big payoff. Staff photo.
Erin Laborie is an extension educator in Beaver City, Nebraska, and a member of the University of Nebraska Beef Team.
References omitted but are available upon request. Click here to email an editor.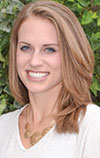 Erin Laborie

Extension Educator
University of Nebraska