Adequate nutrition is critical, for not only the health and rebreeding success of the mother, but also for the health and vigor of the calf. Interestingly, feed costs represent the greatest cost for cow-calf producers, representing as much as 50 to 60 percent of total production costs.
Balancing rations to meet nutritional requirements in an economical manner is arguably one of the most important aspects of managing a cow-calf herd. Here are a few tips to help producers effectively feed cows this winter.
Test harvested forages
There is tremendous variability in forage quality depending on plant species, maturity at harvest, storage methods, moisture, etc. It is relatively easy and inexpensive to submit forage samples for laboratory analysis to determine nutrient concentrations. That information can then be used to match forages to nutrient requirements and develop supplementation strategies as necessary.
Balance rations to optimize the use of available feeds
Once the nutritional value of forage is known, rations can be balanced to optimize the use of those forages and make the most of available feeds. For example, if hay quality is adequate to meet the needs of gestating cows, it is helpful to know that supplementation is not necessary. Alternatively, if forage offers greater nutrient levels than required, perhaps there is a way to mix high-quality forage with lesser-quality forage to meet requirements without overfeeding valuable nutrients. If forage supplies are short, supplementation with grain, co-products or other concentrated feeds may allow producers to stretch forage supplies.
Compare feed prices appropriately
Because feeds vary significantly in terms of moisture, dry matter and nutrient density, it can be misleading to compare price per ton or price per bushel. It may be helpful to compare feed prices based on price per unit of protein and price per unit of energy. This allows an "apples to apples" comparison and helps to clearly identify the most cost-effective feeds.
Sort cows by age and body condition
First- and second-calf heifers often struggle to maintain body condition as they are still growing and developing during those first lactations. If they are a little thin going into winter, it may be helpful to feed them separately from mature cows. Feeding younger and thinner females separately minimizes competition and allows producers to meet their nutritional requirements through supplementation with more energy-dense feedstuffs, without overfeeding mature and well-conditioned cows.
Minimize feed waste
Feed waste can vary tremendously depending on numerous variables and can be surprisingly high on many operations. Data from the University of Missouri estimates that, depending on feeding methods, estimated losses (percentage of hay offered) can range from 3.9 percent to as great as 43 percent. Considering the value of hay, significant feed waste can be devastating to profitability.
Assess body condition score (BCS)
Assess BCS now and adjust nutrition accordingly. Nutritional demands will continue to increase through the third trimester of pregnancy and into early lactation. It will become more difficult and more expensive to improve body condition as females move later and later into pregnancy and as they transition into early lactation.
Proper nutrition is extremely important for the health, well-being and performance of any cow herd, and winter feed costs are often the greatest production cost for cow-calf operations. It is critical that producers feed cows well but feed them in an economical manner. These tips should help as producers plan winter feeding strategies.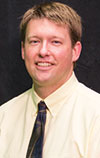 Christopher Clark

Beef Field Specialist
Iowa State University
PHOTO: Hay rings are one way to minimize feed waste. Photo by Lynn Jaynes.