"Foot-and-mouth disease [FMD] is going to be a bigger disaster when it comes to market disruption than what we faced with COVID-19," said Danelle Bickett-Weddle, associate director for the Center for Food Security and Public Health at Iowa State University.
During the virtual Driftless Beef Conference in January, Weddle encouraged viewers to "err on the side of caution" when it comes to one of the most contagious diseases of cloven-hooved animals. A disease, she said, that would not only impact the movement of animals to market but would also bring international trade to a screeching halt.
"This market disruption could impact food availability much like we saw with COVID-19," Weddle said. "Moving animals out of the feedlot to market could be slowed initially as disease control measures are put in place. FMD will impact the economic viability of livestock producers. Balancing disease control efforts with the risks of animal and animal product movement to ensure business continuity is pretty complex."
For more than a decade, there has been significant effort in the U.S. to develop response plans that support disease containment to detect, control and contain FMD while not destroying the industry in trying to eradicate the disease. Although the U.S. has not had a case since 1929, two-thirds of the world is currently dealing with FMD in their livestock populations.
"We all know that diseases move," Weddle cautioned. "Things are happening in the swine world with African swine fever. We are worried about that, and the swine industry is taking preparedness actions for African swine fever. Same thing with FMD; we need to make sure we are doing things now to best protect our cattle."
So what would happen if this disease were to hit the U.S.? And what can producers do now to best be prepared? Weddle offered some insight.
Stop movement
Referring to the USDA's Foot-and-Mouth Disease Response Plan, the first thing that would occur is a 72-hour national movement standstill of susceptible species (cattle, sheep, pigs, goats), as well as their semen and embryos.
"COVID-19 rings a bell, right? We shut things down for a period of time when COVID-19 hit. The same exact principle will be applied if this foreign animal disease becomes a problem here in the United States," Weddle said.
Movement permits
Once the national standstill is lifted, movement restrictions will likely remain in regulatory control areas around each infected premises to limit the risk of disease spread through animals and product movement. Control areas could be 10 kilometers (6.2 miles) in diameter, possibly bigger, depending on the topography around the infected farm and other livestock in the area. A permit will be required to move animals, their products (semen, embryos and manure) and possibly other items entering or exiting the control area.
To illustrate why permits will be needed, Weddle said, "You may have had a good relationship with a slaughterhouse, but now that you are in a control area, people down the line are going to want to know what risk they are accepting by continuing to take your cattle. And what if you need to move cattle to another state? That other state veterinarian needs to know what you are doing to make sure you are not moving the virus into their state and putting the livestock in their state at risk."
Weddle said the best way to explain how the movement of susceptible species will occur during an FMD outbreak is to think back to the Sept. 11, 2001, terrorist attacks. The Federal Aviation Administration issued a "national ground stop," which meant planes in the air were landed safely at the nearest airport and no new flights were initiated. Some commercial flights were allowed to resume three days later but with enhanced safety protocols and heightened security.
Preparing now
So how will producers manage their business without cattle movement for a period of time? Weddle reminded viewers that during the first 72 hours (the national movement standstill), regulatory officials will not be issuing movement permits at that point. She said, "It will be very much like COVID-19. We closed restaurants, we closed bars, we closed movie theaters; we closed a lot of things to stop the spread of the disease. Same principles apply here."
Weddle mentioned that there are several things which can be done prior to an FMD outbreak and could enable movement sooner for those operations, once animal movement resumes.
1. Request a national Premises Identification Number (PIN) from the office of your state animal health official. Having a PIN facilitates requesting a movement permit during an outbreak. A PIN is linked to the geospatial location reflecting the actual location of the animals on the premises.
2. Maintain movement records for traceability. Similar to contact tracing with COVID-19, traceability will be important to determine where exposures came from and what other farms might have been exposed. Records should be kept for 28 days.
3. Develop a biosecurity plan. Each operation – feedlot, stocker or cow-calf – should have their own biosecurity plan to help keep their animals safe. Producers can work with their veterinarians to develop a written, operation-specific plan acceptable to regulatory officials.
4. Train personnel on disease monitoring and surveillance. Animal caretakers should be trained to recognize the signs of FMD and what to do when the disease is detected. Only cattle with no evidence of FMD infection will be able to move. That is tough to prove just by looking.
"[Disease surveillance] planning gives me gray hairs. Cattle can shed FMD virus up to four days before looking sick. We don't have penside tests in cattle," Weddle said. "It is hard to know for certain there is no infection in my cattle without testing. Yet we lack good testing methods. Collecting samples on finished weight cattle or range cattle is another hurdle we need to overcome. The best thing to do? Keep your cattle from getting exposed in the first place – practice daily biosecurity."
Weddle told viewers that participation in the Secure Beef Supply (SBS) Plan is completely voluntary, but if producers want a "leg up," preparing now can put them in a better position if this disease were to ever come to the U.S.
All of the information on how to plan and what to do when an FMD outbreak occurs can be found at the Secure Beef Supply website. The SBS Plan was funded by the USDA and is the product of collaboration between industry partners, NCBA, state and federal officials and academia.
FMD is an animal disease. It is not a public health or food safety concern. Meat and milk are safe to eat and drink.
PHOTO: Training personnel to recognize signs of FMD is critical to disease containment, but it is also difficult to do. Staff photo.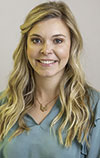 Cassidy Woolsey

Editor
Progressive Cattle