Deworming is a widely accepted practice that can improve performance and provide considerable economic advantage.
Yet, when we look at the effectiveness of dewormers, we find that certain classes are not working as well as they have been in the past.
For more than a decade, Merck Animal Health has maintained the world's largest database of fecal egg count reduction test (FECRT) results. The database has more than 24,000 fecal samples – about half conducted pre-treatment and half post-treatment – from 24 states and more than 250 veterinary clinics.
Veterinarians can determine the percent reduction in egg count by conducting a FECRT – where 20 samples are taken the day of treatment and again 14 days after treatment. They should expect to see at least a 90% reduction in fecal egg count after deworming.
The database results show the endectocide formulations – pour-on and injectable – are losing efficacy. The 10-year summary shows they performed well below the 90% threshold:
Nearly half the eggs remained after cattle were given the endectocide pour-on for a mere 51% efficacy. This is based on more than 2,700 fecal samples.


The endectocide injectable only did slightly better. When evaluating the efficacy of more than 4,400 fecal samples, a small uptick in effectiveness was recorded – specifically, 57.4%.
Researchers also evaluated fenbendazole formulations – all of which are in the benzimidazoles class. In more than 7,500 fecal samples tested, an efficacy of 98.7% was realized.
Adding a second class of dewormer to concurrently treat cattle resulted in an efficacy of 99.1% (Table 1).
Researchers reported these results after analyzing more than 2,700 fecal samples.
It is important to note that even slight improvements in using two classes of dewormers simultaneously can have a major impact on drug efficacy long term.
Experts discuss emerging resistance
Merck Animal Health recently initiated a discussion on parasite resistance with seven of the world's leading parasitology experts. All of the experts agree: Resistance is a serious global issue and an emerging one for U.S. beef and dairy producers. Misapplication of dewormers is contributing to the reduced efficacy.
One common misapplication is underdosing. If you are dosing based on the average weight of the group, you're actually underdosing half the animals. Dewormers need to be used properly to delay further resistance.
The good news is: Resistance can be managed with existing technology and protocols. Diagnostics are important. For FECRT testing, it is important that 20 samples are taken both at treatment and 14 days post-treatment. If there is less than a 90% reduction in fecal egg count, a polymerase chain reaction (PCR) test – which is a DNA-based test – should be conducted to determine which parasites remain. These tests are not expensive.
Experts agree that two or more classes of drugs with different modes of action should be applied concurrently at the right time to achieve the highest efficacy and manage resistance. There are three classes of dewormers approved for use in U.S. cattle: benzimidazoles, endectocides or macrocylic lactones and imidazothiazoles.
Refugia, the practice of leaving some parasites unexposed to a dewormer, can slow resistance. The goal of refugia is to create a system that allows you to dilute out some of the resistant parasites with susceptible parasites.
Work with your veterinarian
Parasites impact every aspect and segment of cattle production. They can affect feed conversion, immune response, milk production, reproductive performance and overall health.
Now is a good time to start the conversation with your veterinarian and discuss diagnostic testing and on-farm management practices that should be used to create a strategic parasite program that is profitable and sustainable for your operation.
PHOTO: If you are dosing based on the average weight of the group, you're actually underdosing half the animals. Photo by Paul Marchant.
References omitted but are available upon request. Click here to email an editor.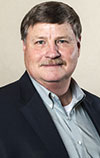 Harold Newcomb

Technical Services Specialist
Merck Animal Health