A healthy calf is better able to handle stressful transition periods, and a healthy calf results in a higher-quality end product consumers desire.
Those of us involved in the beef industry want the best for our animals, which makes bovine respiratory disease (BRD or shipping fever), the most common of all bovine health problems, a key concern.
BRD is the most frequent cause of mortality and morbidity in feedlot cattle, as well as the most common cause of death in nursing calves older than 3 weeks. Scientists at the USDA Meat Animal Research Center report, on average, the mortality rate of pre-weaned calves from BRD is at 13 percent.
The bacteria most commonly associated with BRD are Mannheimia haemolytica and Pasteurella multocida. In a recent study by Canadian scientists published in Veterinary Microbiology, the occurrence of Pasteurella multocida in calves entering the feedlot was much higher than expected, even surpassing the rate at which M. haemolytica was present.
The study set out to identify the bacteria associated with respiratory disease in feedlot cattle. Groups of high-risk calves arrived at the feedlot and received a standard processing protocol. The calves with signs of respiratory disease were sampled for bacterial infection via nasal swabs. Healthy penmates were also sampled for comparison.
In total, 210 animals with suspected respiratory distress and 107 head without symptoms were sampled. P. multocida was found in 54.8 percent of the calves, while M. haemolytica had an occurrence rate of 30.5 percent.
In the healthy animals, P. multocida was found in a lower percentage of the samples but still remained more common than M. haemolytica. For the cow-calf producer, these findings are especially important, as P. multocida has not always been recognized as a primary cause of pneumonia in young beef calves.
Building immunity
Building a calf's immunity within the first days and weeks of its life can help it through times of stress and be more resistant to bacterial pneumonia. Environmental factors, nutrition and management practices contribute to the susceptibility of a calf to BRD.
But we have little control over changing weather during calving season or the opportunity to quickly identify when a calf has trouble nursing.
We know the quality and quantity of colostrum calves receive are critical, and the success of delivery within the first 12 hours of life varies considerably. Whether it's an issue with the calf or its mother, a variety of factors can mean calves don't receive this defense against disease.
With these obstacles to immunity in mind, how do we tackle this challenge of providing greater protection against bacterial pneumonia?
One logical answer is by building immunity to prevent pneumonia caused by P. multocida and M. haemolytica. But this also comes with challenges. For years, we thought it was a waste of money to vaccinate calves during their first two weeks of life because maternal antibodies in colostrum would interfere with injectable vaccine antigens, making the vaccination ineffective.
But through extensive research, Dr. Philip Griebel, professor and research chair in neonatal mucosal immunology at the University of Saskatchewan School of Public Health, discovered the mucosal immune system in newborn calves is fully functional.
He found calves receiving intranasal vaccinations had the ability to induce protection not subject to interference with maternal antibodies.
By using quality intranasal vaccines, we can avoid interference with maternal antibodies and provide more assurance calves will be capable of handling exposure to infection during times of stress.
Cattlemen with a strong foundation of animal husbandry have the upper hand in the battle against BRD, but now we can do more.
Adapting to knowledge
It's important to review herd management practices and adapt to new findings. We don't have to accept a 13 percent death loss in pre-weaned calves due to BRD. This review starts with adequate record-keeping.
After analyzing your records to determine when your calves are most susceptible to BRD, determine the economic impact of that loss. Then consider the opportunity building immunity at birth provides your operation.
Working with your veterinarian is the best way to determine whether new products on the market are the right fit for your operation. Your veterinarian can help you review records and management practices and provide advice.
Keep the end goal in mind
As we are reminded of how improving animal health equates to a high-quality product that meets consumers' needs, we must continue to look for ways to reduce the impact BRD has on the industry.
We have entered a time when domestic and export demand for high-quality meat products is on the rise. The USDA projects per-capita U.S. beef consumption to rise by around 4.5 percent in 2018 compared to 2016 levels. With the industry focused on building demand for our high-quality product, producers' attention to detail from day one of a calf's life has never been more important.
Improving calf health improves demand for your product throughout the supply chain. Calves immunologically prepared to respond to the stresses of weaning, shipping and commingling will be healthier, more efficient and require fewer days on feed.
Through proper management and the use of new tools like intranasal vaccines, raising a healthy calf satisfies your feedlot customers and the rising demand for a high-quality beef product.
PHOTO: A calf's ability to fight bacterial pneumonia in times of stress is largely determined by how much immunity it builds in the first weeks of life. Staff photo.
References omitted but are available upon request. Click here to email an editor.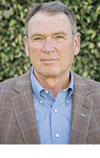 Kevin Hill

Technical Services Veterinarian
Merck Animal Health