The goal of any bovine respiratory disease (BRD) treatment plan is to reduce the number of cattle that go off feed and spend time in hospital pens.
It is well documented: When compared with nondiseased animals, BRD-affected animals have reduced feed intake, lower rate of weight gain, smaller carcass weights and a decreased likelihood to grade USDA Choice. A percentage of affected animals die, with BRD responsible for approximately 45 to 55 percent of all deaths in the feedlot.
Antibiotics are often the first line of defense against this devastating disease, which is the beef industry's leading cause of morbidity and mortality. According to the USDA's National Animal Health Monitoring System (NAHMS) Feedlot 2011 study, an estimated 16.2 percent of cattle showed signs of respiratory disease at some point during the feeding period.
Getting cattle treated right the first time reduces costly re-pulls and results in cattle performing better. While there are many treatment choices for respiratory disease, these options came with a substantial treatment cost of $23.60 per case.
A new BRD option
The cattle industry now has a new tool to add to its BRD arsenal. The FDA recently approved flunixin transdermal solution, making it the first and only nonsteroidal anti-inflammatory (NSAID) cattle product to be available with a convenient pour-on administration.
This patented delivery eliminates the need for intravenous administration, making quick work of treatment and putting less stress on animals. Flunixin transdermal solution is formulated with penetration enhancers that help optimize the drug's absorption through the skin and into the bloodstream.
Studies demonstrate a single dose is absorbed into the bloodstream within minutes, and the product has long duration of activity at the site of inflammation.
When BRD strikes, cattle often have a high fever, and it can escalate quickly. Adding an NSAID to a BRD first-pull treatment protocol that includes an antibiotic has two benefits. First and foremost, it helps reduce the fever quickly.
Second, it works uniquely as a nonsteroidal to help keep animals drinking water and eating. The antibiotic treats the bacteria causing the inflammation, and flunixin transdermal solution treats the effects of that inflammatory process – the fever.
How it works
Flunixin is widely used for its anti-inflammatory and analgesic properties. Its major therapeutic action is through the inhibition of the enzyme cyclo-oxygenase (COX), as well as prostaglandins and thromboxane B2. These products of inflammation are presumed to be responsible for much of the lung damage seen with BRD.
Researchers conducted an inflammation study to determine the effect of flunixin transdermal solution administered topically on the production of prostaglandin E (PGE2). PGE2 is a lipid mediator in inflammatory and immune responses. Its synthesis is regulated by the expression of cyclo-oxygenases.
In this study, researchers examined the production of PGE2 in tissue exudate and the effect on inflammatory response. Compared to saline, animals treated with flunixin transdermal solution had significantly reduced PGE2 concentrations from eight to 48 hours after treatment (Table 1).
This reduction was still at 87 percent versus saline at the end of the 48-hour study.
The study demonstrated flunixin transdermal solution had:
Rapid speed of action with the percentage reduction of PGE2 demonstrated at two hours after treatment


Potent anti-inflammatory activity with nearly 20 times less PGE2 compared to saline at eight hours post-treatment


Extended activity with almost 90 percent of inhibition of PGE2 up to 48 hours post-treatment
Field studies also demonstrated flunixin transdermal solution controls fever associated with BRD. Researchers conducted studies in four states with 251 total animals enrolled and diagnosed with BRD. At enrollment, rectal temperatures ranged from 104.5 to 107.8ºF.
Animals received either 3 milliliters per 100 pounds of flunixin transdermal solution or a placebo. No antibiotics were given.
Six hours after treatment, rectal temperatures were measured again, and treatment sites were observed for abnormalities. An animal was considered a treatment success if rectal temperature was reduced by 2ºF or more.
Animals receiving flunixin transdermal solution had a 58.3 percent success rate compared to the placebo group with a rate of 6.1 percent. Treatment sites were considered normal in animals treated with flunixin transdermal solution.
Two-pronged approach
Research indicates BRD therapy will have the best chance for success when flunixin transdermal is used in conjunction with an antibiotic.
University of Arkansas researchers conducted a study with 96 stocker calves. They randomly divided calves with clinical signs of BRD into two treatment groups.
The first group was treated with flunixin meglumine at 2.2 milligrams per kilogram bodyweight intravenously and tilmicosin phosphate at 10 milligrams per kilogram subcutaneously. The second group received tilmicosin phosphate at 10 milligrams per kilogram.
Flunixin meglumine used in conjunction with tilmicosin phosphate resulted in reduced percentage of treatment failures and BRD relapses (Table 2).
This represents an advantage in terms of reduced labor for treatment as well as reduced medication costs.
Improves animal well-being
This new approach of using a topically applied NSAID to reduce fever in cattle caused by BRD aligns with industry efforts to continuously improve animal care. The pour-on requires less handling and offers needle-free administration, which results in less stress on the animal and no risk of an injection site lesion.
Using a topical NSAID with a first-pull antibiotic treatment is a convenient way to reduce fever and achieve BRD treatment success by helping cattle feel better so they keep eating and drinking.
References omitted but are available upon request. Click here to email an editor.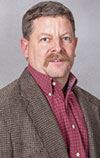 Guy Ellis

Beef Cattle Technical Services Veterinarian
Merck Animal Health