Greg Goudreau speaks with a haste in his voice and an appreciation for the quick sale, as you might expect from the owner of the Navasota Livestock Auction in Texas.
But Goudreau, as a cow-calf and stocker producer himself, also preaches a hint of karma and golden-rule wisdom when he tells producers the key to buying healthy cattle at the sale barn.
"Purchasing healthy cattle starts with you personally raising healthy cattle. If you raise healthy cattle, I can purchase them healthy," said Goudreau at the Texas A&M Beef Cattle Short Course on Aug. 6 in College Station, Texas. "If you improve your operation, you're going to improve the industry."
When buyers express a lack of confidence in what they may buy at the sale barn, Goudreau says that reflects doubt calves – including calves they have sold previously – are not in the best condition.
"Where do you think we get these cattle?" Goudreau asked the room. "From you. You all bring them to me. Nobody has any confidence in buying them, but you expect the buyer to buy them. Ouch."
Too many producers slide problematic cattle through the radar and into the sale barn, Goudreau explained, and that just widens the problem both for the industry and the producer. Heading into fall, death loss percentages begin to climb in the Southern Plains feedlots, and too many cattle come through unprepared for the next stage.
"How many at the end of a shipment said, 'Whew, we got her there!'" Goudreau joked.
"Do not knowingly sell cattle with health problems," he said. "Don't sell them as replacement cattle. Don't sell a PI [persistently infected] calf. If you know it, put him down. If I take him and mix him with another hundred head, and I take a 5 percent death loss, I don't know why. Don't sell your problems or pass your problems along."
Buyers want healthy cattle coming from the home ranch and, from a marketing perspective, those cow-calf producers need to know what they can do to help themselves and the next producer.
With that said, Goudreau didn't mince words on how to make it happen.
Ask questions
When buying, know the specifics about the source of the sale, be it a sale barn, special sale, internet sale or even Facebook.
"How long did they own them, and what vaccines did they give them? Was the bull fertility-tested? Trich-tested? You have risk in owning cattle, and these risks are here. I know my risk, and I buy unknown cattle all the time, but I know I have to pencil that in."
Goudreau said his experience shows to figure in 7 percent loss on large buys in August. "We bought 3,500 of them last year, and it was 9 percent on them." He said loss estimates climb to 8 percent in September and between 9 and 10 in October.
"You know what October is called? Dead calf month for the feedyards. Because the temperature swings, and these calves are not properly vaccinated, they're not ready for the next level like you think they are."
Establish a vet-client relationship
Insight from a vet is essential, when it can reveal which health issues arise locally and seasonally. They can help develop a herd health plan before purchases, select vaccines and take preventative steps.
"Apply what they say on herd health programs that the buyer recommends."
Goudreau made a lengthy pitch on using modified-live vaccines in calves preparing for sale. Most buyers will insist on it, he said. His own experience with killed vaccines has resulted in high death loss percentages and inconsistent performance year-over-year.
Modified-live vaccines take a virus and replicate it, then modify it so it can fight disease.
But other protocols in the program need to be determined and followed closely. "Get with your vet, get a vaccine program, with dewormer, blackleg, IBR, modified-live vaccines. I can't say it better than that."
"Probably some vets may disagree with me on vaccines. If they say use a killed virus, ask them if they want to buy (calves) and feed them themselves.
"Unfortunately you've got to go where the money is. And where the money is, the buyer is going to make the rules and tell you what to do. But they're not going to tell you something that doesn't work because if it's going to work for them, it's going to work for you too. It's going to make your whole herd healthier."
Know what the industry wants
Goudreau isn't apologetic about his opinion on cattle breeds – he thinks there are too many types.
"We need to stay with what the industry wants," he told the Beef Cattle Short Course audience. "Some of them dance around it, (but) I'm going to name breeds."
Black hides are in demand, Goudreau says, even if the comparisons are unfair. Buyers watch cattle unload off trailers and count how many black-hided cattle come off. That's the weight those phenotypes carry in the sale.
Showing slides of Brangus cow-Charolais sire, Brangus cow-Hereford sire and Braford cow-Angus sire crosses, Goudreau said a little less ear and healthy frame generally capture most buyers' attention.
Red flags
Continuing on what the industry's buyers stay away from, Goudreau added these features as standard discounts.
Bull calves
Goudreau said when a bull calf comes to the auction having no castration, it sends an additional message about the animal's preparation. "I cannot stand to see an eartagged, ear-notched calf, where you had your hands on them, but he's still not castrated."
And the discounts are heavy for uncastrated calves. Goudreau's rule of thumb is: For a 400-pound calf, the discount starts at $4 per hundredweight and goes up to $8; for a 500-pound calf, the range is $5 to $10 per hundredweight; 600-pounders, $6 to $12; 700-pounders, $7 to $14; 800-pounders, $8 to $16 per hundredweight.
"A producer will lose $72 a head simply because he didn't castrate a 600-pound calf."
Rat tails
Calves from Brangus cows-Charolais bull crosses have what Goudreau calls a "genetic defect." This is seen in tails with no bush end. "If you buy enough of those, there's something in their genes; they cannot stay healthy."
Horns
Polled genetics are the simple answer to horned bulls, Goudreau said. "Quit sending big-horned cattle. They do not want them." When the horns are removed, the remnant should be no wider than a tobacco can.
Overloaded cattle
If cattle are packed tightly, the calves will get down, dirty and possibly lame, Goudreau said. "It's easier to make two loads or let that one grow a little bit," he said. "If one of them jumps out and leaves, it's better to say 'There he goes' than send cowboys after him, rope him, get him on the trailer and say, 'There he lays.'"
Pink noses, lack of pigment
Showing slides of those breeds that exhibit pink noses or lack of pigment around eyes, Goudreau says buyers tend to discount those cattle for risks of dust and flies in the feedlot.
While some producers and vets may disagree with his points, Goudreau simply represents a perspective of the middle buyer taking calves from one stage into a more stressful stage. When those calves are challenged, the health risks rise.
"Raising healthy cattle, buying healthy cattle and selling healthy cattle – it's all you," he said. "If you do those things right, the money will come back to you."
PHOTO: Doug Goudreau of Navasota Livestock Auction at the Beef Cattle Short Course. Photo by David Cooper.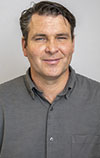 David Cooper

Managing Editor
Progressive Cattleman