For seedstock producers, sale day is the most important day on their operations.
Three seedstock operators offer their experiences in putting together their sales.
Auctioneers
Casey Fanta, seedstock manager for Wulf Cattle in Morris, Minnesota; Andy LeDoux with LeDoux Ranch in Agenda, Kansas; and Andy Rausch, a fourth- generation rancher at Rausch Herefords in Hoven, South Dakota, have varying backgrounds but all three note the importance of utilizing a good auctioneer on sale day.
At Wulf Cattle, they sell Limousin, LimFlex and Angus genetics. They sell about 400 bulls and 50 females through their spring sale, which is the last Friday in March.
With that many bulls, an efficient auctioneer comes in handy. Wulf Cattle has used Sonny Booth from Oklahoma since their first sale 29 years ago.
"I think it's very important that people are able to understand them and it needs to be someone that's efficient enough to move through the cattle quickly and make sure we're not leaving money on the table either," Fanta says.
"I think it's important that your crowd is comfortable with the auctioneer. Sonny's been doing our sale for so long that everybody's very familiar with him."
LeDoux hired Kyle Elwood from Kansas for his first sale eight years ago to sell his Gelbvieh, Balancer, Red Angus and Angus stock. LeDoux has been happy with his choice for his sale, which is the second Saturday of February.
"He knows what he's doing, and he's good at his job. He's easy to understand, and I think that's very critical. He works well with the crowd," LeDoux says. "I think that's what it's all about.
We've probably all been to sales where the auctioneer is pretty opinionated and pretty important feeling. This guy's got a shot of humility and he sure likes what he does."
In 2017, Rausch Herefords will host its 59th annual sale at the ranch the third Monday in February, Presidents' Day. During the last nearly 60 years, the Rausches have put their trust in Pat Goggins and now his son Joe Goggins, out of Montana. Their customers are familiar and comfortable with those auctioneers.
"Selection of an auctioneer can make a big difference for the results of your sale. You're putting a lot of faith in that one person because you've worked all year to get your animals ready to market them, but on that day a lot of it still comes down to who's there in the crowd to buy, but also your auctioneer's ability to sell," Rausch says.
Video auction
All three ranches use video auction on sale day. LeDoux started using video auction to sell his bulls from day one.
"We do a video auction and broadcast it live on Liveauctions. The bulls are penned up outside. When we started this, we went right into the video deal just from terms of labor and keeping everybody happy I think," LeDoux says.
Rausch uses DVAuction for their video auction. They made the switch from running the bulls through the ring on a video auction about five years ago.
The Rausches have been pleased with the switch because it cuts down on labor and trims the sale time down to allow people to travel home at a reasonable time. It also keeps the bulls calm in pens outside.
"That has really taken a lot of stress and pressure off of sale day. If you have a ring and a crowd full of people, a bull comes in there and sees the lights and the noise and freaks out. We've never had it happen that I'm aware of, but there's always that possibility no matter how tame the bulls are that it could happen," Rausch says.
Since Wulf Cattle grows up most of the bulls and replacements at their Sandy Ridge Ranch in Atkinson, Nebraska, in 2016, they made the decision to haul 80 of their 400 sale bulls up to Morris for the sale. Last year was their first year doing a video auction.
Fanta says with 400 bulls, it takes a long time to run each one through the sale ring. Hauling 400 bulls from Nebraska to Minnesota is also a daunting task, so they made the decision to bring 80 bulls that best represent their pens in Nebraska.
"We only have 20 percent of the bulls on display. That really lightens the load," Fanta says. "It probably cuts the selling time down, I'd say 75 percent of the time, to sell as the live auction was. One of the concerns was selling that many bulls; the sale gets pretty long."
At Wulf Cattle, they use Superior Livestock and DVAuction. Last year was the first year with DVAuction. Fanta says that gave their online buyers the option to click to bid.
Fanta notes they also set up computer stations at their sale for potential customers to click on the videos to see the bulls that were not onsite.
"On sale day, we had some computers available so people could go and click on the thumbnail and view videos of the bulls," Fanta says.
Advertising and marketing
At Wulf Cattle, every customer is important. They do a lot of regional advertising and some national advertising. They also print a catalog, post the catalog and bull videos on their website and on Superior Livestock and DVAuction.
In addition to their advertising, they also offer an educational seminar the night before the sale. Fanta estimates they have about 200 people in attendance for their seminar and about 800 on sale day.
"We try to get speakers in that are very knowledgeable people, people that we work with in the industry to hopefully give our producers some insight they might not get somewhere else," Fanta says.
LeDoux started with radio advertising eight years ago. At the time, that was something many producers in his area were not doing. He says more have started using radio now. In addition to radio, they also do some print advertising, postcard direct mailers and word-of-mouth. They also post their bull videos and catalog on their website.
In their catalog, they provide performance expected progeny differences (EPDs) and genetically enhanced EPDs. They also note bulls that are homozygous polled and homozygous black. The bulls are tested for BVD and Johne's disease.
"I know it [Johne's disease] was a hot topic at our state livestock association meeting here in December, that they're seeing more of it," LeDoux says. "Historically it was a dairy industry problem and they're seeing more and more of it out in the country."
Rausch uses print advertising in livestock papers, Hereford America and Hereford World. They do some radio advertising and direct mailers as well. They post bull videos to their website, as well as their catalog.
"We have a ranch website, which the closer you get to the sale it gets a lot more traffic because we pre-video all the bulls' individual lots that are going to be on the sale," Rausch says.
Mealtime
All three ranches provide a meal for their customers. At Wulf Cattle, they offer a meal at both the seminar and the day of the sale.
Rausch's uncle grills ribeye steak sandwiches for their visitors.
"It's also a thank-you for our neighbors or anybody from the community who wants to come – it's kind of our appreciation for them," Rausch says.
LeDoux says they offer a grilled steak and pie as a thank-you. He says it shows their commitment to the whole process.
"If they can't find anything here they like, at least they get a good meal out of it," LeDoux says. "There's different ways of looking at doing business. You either do it right or you do it halfway, and we try to do it right."
PHOTO 1: Rausch Herefords will host their 59th annual production sale in February. Photo courtesy of Rausch Herefords.
PHOTO 2: LeDoux Ranch has been using video auction on sale day since its first sale. Photo courtesy of LeDoux Ranch.
PHOTO 3: Wulf Cattle started using video auction in 2016. Photo courtesy of Wulf Cattle.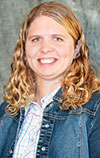 Wendy Sweeter

Freelance Writer
Worthing, South Dakota