Producers today are inundated with many new technologies flooding the market. These new advancements in agricultural technology can cause excitement for many in our industry.
However, we encourage you to use caution when deciding to implement new or upgraded technologies into your operation.
Below are some questions to consider when determining whether a new technology will meet your needs.
Price
Is the price reasonable for the function and use of the technology? Will the technology pay for itself through added value or reduced time?
Considering the price of the technology will assist you in deciding when and if you should implement the product. In all segments of the agriculture industry, profit margins can be very small. New programs or equipment should increase profit margins by improving decision-making or by saving time for operations in some form.
Timing of fees
You should also know if the technology has a monthly or annual service fee associated with the product or if there is a one-time charge.
If there is a one-time charge, how long will you have access to support technicians in case problems are encountered?
Value
What value will the technology add to your operation or enterprise?
Technology implemented by producers needs to add some value. Many technologies are marketed and branded to excite producers into purchasing products that have a justifiable value – just not for every producer. Thoroughly vet products to understand the exact manner in which you will use the technology and the real value you will receive for your operation.
User friendliness
How user-friendly is the technology or equipment?
Whether the technology is software or a piece of equipment, be certain the people responsible for implementing the new tool have the skill set needed to operate it or the ability to learn how to use it. Tech support may potentially be needed. Therefore, check the company's customer service hours of operation and time zones to understand availability of help.
Also take time to understand all of the options that come with the technology, which may not always be apparent, so you can receive full use of the product.
Equipment needs
If purchasing new software, do you have the necessary computer power and platform to handle the product?
While most software is designed to run on multiple platforms, such as iOS, Microsoft, Android, etc., not all software systems are compatible with all platforms. You will need to understand the system requirements of the product you are interested in acquiring. You don't want to get into a situation where you purchase software only to discover you will have to purchase hardware or upgrade existing hardware and software to be able to use the new product.
Ability to import data
If you are considering technology to collect, maintain and assist in processing data, you'll probably be using a database. New users of databases should check to see if the application has the ability to import existing data. If prior data has been compiled, whether in the form of handwritten records or spreadsheets, can this data be imported into the software? An import will give you a foundational baseline of information that can then be built upon, providing you the ability to increase not only the timeliness but the quality of your decisions.
Data use
Another consideration when thinking about purchasing a database system is: How will you use the data?
Record-keeping databases are only valuable if data is entered correctly and used.
Uses for data include:
Making decisions to improve performance, yield or economics


Identifying weaknesses in an operation so you can either improve them or potentially eliminate them


Performing compliance recording
By properly recording and maintaining data within an operation, you are able to begin the process of intentionally managing resources in a sound ecological and economic process. Additionally, many databases allow for producers to input data "on the go" to help with recordkeeping required by some local, state and federal regulations, such as herbicide and pesticide treatments.
Ability to export data
A final point to make concerning database purchases is the ability to do a full export of data accumulated. As we all know, technology is an ever-expanding field. You may at some time in the future find a new database better suited to your particular needs. When this happens, you will need to be able to export accumulated data to import into the new system. Without the ability to export data, you may lose years of data and find yourself starting over – or possibly paying for support for an older service to keep the historical data.
Do your research
While agricultural technology is an exciting field, you will receive the most benefit from technological advancement by doing due diligence in researching new or upgraded products. Great managers have clearly defined operational goals and objectives, and the same approach applies when it comes to purchasing technology. By understanding your goals, objectives and uses for technological equipment, you will be better informed and satisfied with your acquisition.
PHOTO: The wide variety of new technology items can be overwhelming. Let your needs determine your purchase decisions. Photo courtesy of Noble Research Institute.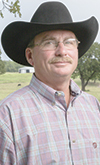 Devlon Ford

Agricultural Consultant and Research Associate
Noble Research Institute