Traceability is coming. It's an inevitability – but also an exciting change for the industry. However, it's a daunting and ambiguous subject when you think about it.
Some of the largest industry players, stakeholders and influencers are trying to grasp the best methods and technologies to record and track the entire life-cycle data of animals.
Yet in trying to solve the big-picture problems, these groups have tended to miss addressing the simplest questions about it for producers. As such, here is a quick approach to thinking about traceability for your operation.
Traceability, as defined by the USDA, is the act of knowing where diseased and at-risk animals are, where they've been and when they were there, so as to ensure a rapid response when animal disease events take place. When thinking about traceability right now, it's a "better late than never" kind of situation. In 2003, the industry was introduced to the U.S. Animal Identification Plan (USAIP) and in 2004, that turned into the USDA's National Animal Identification System (NAIS). Both programs never gained traction. In 2013, the USDA created the Animal Disease Traceability (ADT) system and now, in 2019, the industry is left with its limited usefulness.
Recently, Kansas State has developed a bare-minimum system (i.e., the system tracks animal ID number, GPS location, and date and time). These three data categories (i.e., what, when and where) are essential for national biosecurity. For producers, however, there is a need for more robust systems that allow individuals to manage and market their data as the industry continues to rebuild consumer trust. The USDA definition fails in this area as it neglects to mention that traceability is more than just animal health and recalls. Traceability is also about increasing marketability, brand equity, mitigating risk and strengthening market access to name a few indirect value-added terms.
One of the biggest questions asked by producers is, "What direct benefits does traceability offer?" Well, that's a tricky question with an even trickier answer. Benefits aren't always directly visible. Tracking cattle movement, whether within state or between state lines, is useful for combating disease but is limited in direct value for the producer. However, there are a variety of means to seeing direct benefits of an animal's data. For example, on the commercial side, value-added programs with industry associations that require electronic identification using program-compliant tags are the easiest way to see direct benefits. You may gain a premium for being a part of the program, and the added benefit is you are using your records beyond your operation.
On the purebred and livestock show side, if you don't want to participate in a value-added program, you could build market value of the animals you sell. By simply providing your clientele with the necessary information or electronic records, you add value to your animals, and if they continue to add to the chain, they inadvertently add value as well. This promotion of data from one producer to another or from farm to sale barn is intrinsically promoting grassroots traceability. The simplest transfer of an animal's data (i.e., what, when and where) and making sure the next individual or entity keeps it up-to-date can be participation in traceability.
Getting started
So, how can you, the producer, get started? The quickest way to get started is to contact your state animal health official. These individuals are trained in helping you understand what your state requires for participating in traceability. Additionally, you can join industry groups such as National Institute for Animal Agriculture or attend one of the many industry meetings available, such as the National Cattlemen's Beef Association's annual meeting, to learn about these endeavors. Lastly, be a part of the conversation and the solution. Simple reporting and recordkeeping is a means of creating transferrable information. Transferrable data is the key to traceability. While there is no mainstream, fits-all system in place, by implementing some form of recording and reporting you can be a part of forming a solution that is lucrative for you and others.
Remember, nobody is making you participate in this. At the end of the day, you are a business owner, and the idea is to do what is best for your operation to drive improved business value. Tracking your animals and transferring their data helps with national herd safety, but the method should provide more direct value. Use traceability to your advantage, and change the way you think about it. Use traceability for animal sales, quality assurance and to enhance your bottom line. The next time you think about participating or adopting a method for traceability, ask yourself a few of these questions to see what is right for you:
1. Am I willing to participate in traceability at my level in order to be a part of the solution?
2. Who will own my data if I use a certain system or implement a new technology for traceability? What are these companies' data policies?
3. Will the data collected be used against or to help my operation should a problem arise?
As a final note, we as an industry must start adopting new forms and ideas of livestock production. Traceability allows the industry a safety net to help mitigate diseases from turning into catastrophic outbreaks. However, we need to be more creative to make traceability an integral part of daily animal management and marketing for everyone. One idea is to come up with a method that is not only useful in tracking but combines recordkeeping and promotion of animals from farm to farm. In the end, rethinking traceability is a must, and starting with one transfer at a time is a great place to begin.
PHOTO: A student at Colorado State University uses an EID tag reader to record animal identification in conjunction with animal weight – an example of taking the first steps to traceability. Photo provided by Colton A. Atkins.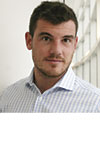 Colton A. Atkins

Precision Animal Management Consultant