As December rolls in and the end of 2017 nears, now is a good time for reflection. Naturally, we are excited to start looking ahead and setting those New Year's resolutions, wishing to put the last year behind us and rather focus on the excitement of planning for the future.
Planning is important within agriculture, at least to the extent of the areas we have control over – we still haven't mastered Mother Nature. However, for those elements we can control, as the saying goes, "You can't manage what you don't measure."
As a ranch owner, operator or supervisor, conducting a self-evaluation of your leadership behavior is as important as the reviews and feedback you should be conducting with your employees. We have become a less patient culture and, before we know it, we can become unaware of how our actions are impacting those around us.
As a leader, your actions speak louder than words. Conducting a year-end analysis of your ability to lead, train and supervise your team of employees, whether it is one employee, several employees or your role in a multi-generation family ranch or agricultural business, looking in the rear-view mirror to do an honest analysis will bring new awareness to your actions. The individuals you influence react as much to what they see you do as to what you say.
Asking these three questions will help you evaluate your actions as a leader.
1. Did you demonstrate a behavior of leadership?
Did you find yourself cutting corners and then wonder why your employee followed suit and did the same? Time is of the essence in agriculture. The days never seem to be long enough to get everything done, but if you are expecting quality work from your team, you must demonstrate quality and thoroughness as well.
If you rushed through feeding, not taking the time to look closely at the health of the cow-calf pairs, and then several had runny noses or bad coughs the next day, were you effective in your role? What do your actions show?
In this case, your actions demonstrate to your employees if time is short, it's acceptable to cut corners and not be thorough with your work. Missing those sick calves can cost your operation dollars in the long run. As the leader, if you don't go above and beyond, how can you expect your employees to?
2. Did you always show respect in ways to build trust?
Whether your team consists of new or seasoned employees, have you taken the time to get to know them? What are their interests and hobbies; what motivates them? Do they have different, unique skills to the previous employee in that role, skills that can be beneficial to the ranch, or are you managing them as if their skill set is the same as that of past employees?
Showing interest in your employees beyond discussing the weekly to-do list builds a stronger connection and mutual trust. Showing respect and civility to others provides them with the ability to thrive in the situation.
A friend of mine who worked for an agricultural organization for about six years shared this experience: Her father had suddenly passed away, and it was an emotional time for her and her family. Meanwhile, her employer did not reach out to express sympathy or support during this stressful time; from their viewpoint nothing had changed – it was work as usual.
Obviously, this employee was still striving to conduct their work to the best of their ability, but they did so with a heavier heart and with some more emotionally difficult days than others. Don't miss an opportunity to show an employee you care, not only for the work they do but for them individually and how important they are to your business.
3. Did you have a positive impact on your team?
Were you authentic in your leadership? Did you take time to meet regularly with your employee/team to explain projects or scheduled timelines? When you scheduled a meeting with an employee, did you keep it? An agriculture employee told me of their frustration and confusion because each time a meeting was scheduled with their supervisor, the supervisor canceled the meeting or cut it short.
Noticing the regular pattern of this, the employee started to believe they were not a valued member of the ranching operation. Research shows one in two people leave their jobs because of dissatisfaction with their supervisor. What impression did you leave on your employees in 2017?
PHOTO: Those in leadership positions should take the end of the year to evaluate how their actions led to building trust and positive outlook. Photo by Thinkstock.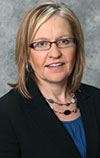 B. Lynn Gordon, Ph.D.

Leadership Consultant
Ag Leaders in Motion - Brookings, South Dakota
Before commenting on our articles, please note our Terms for Commenting.