What traits do commercial cattlemen look for in their cattle?
That's one question seedstock producers should be asking themselves every year.
When you're marketing seedstock or selling calves, it's important to consider the needs of commercial producers. Pay attention to trends in the market and what feeders are looking for so you can better meet their needs. Whether you're selling feeder calves or genetics, there are some key elements to keep in mind to help you connect with your buyers and make the most of your sale.
Stay updated on market trends
There are so many factors that go into supply and demand. Feed supply, weather, politics, economics and the list goes on. As a seedstock producer, part of your job is to keep tabs on the market and look at what commercial producers' needs are. For example, this year weather hit cattle producers across the country hard. In areas where drought severely decreased the amount of forage available, many producers culled their bulls first. As a result, demand for bulls has now skyrocketed, particularly for older bulls and heifer bulls.
A good way to stay updated is to go to the sale barns, look at what's selling online and through video sales. See for yourself what the high-dollar animals look like and what cattlemen are bidding on. This season, more than ever, people want to get off the ranch and attend live sales. This is your opportunity to meet commercial producers and start conversations. Staying up-to-date with trends allows you as a seedstock producer to see firsthand how all these factors and variables are constantly changing commercial producers' needs in the genetics they're buying from you. This allows you to be the most prepared you can be when shifts in the market happen, as they have this year.
Meet your customers online
When it comes to selling genetics, the world of seedstock marketing is rapidly changing. Another trend we've noticed this year is: Genetics are spreading out. Seedstock producers are looking for new customers due to the impacts weather has had on commercial operations. While seedstock producers are trying to reach new customers, mail has become slower, making catalogs a less reliable way to connect with buyers in a timely manner.
Mailers, print advertisements and print catalogs still have their place in marketing; however, it's more important than ever before to cater to your audience in a digital way as well. More and more producers are taking their search for quality genetics online. Text message and email lists are a great way to keep past and potential customers in the loop on your sales and herd happenings through digital platforms that are easy to access at the touch of a button. Expanding to digital platforms allows your reach to extend from the pile of catalogs on their kitchen table to their inboxes, texts and even social media. The more times these potential customers are exposed to your messages, the more likely they are to become a paying customer.
Social media is another way to connect with your customers on a digital platform. Social media sites like Instagram and Facebook allow you not only to share important information with your client base but also start conversations, answer questions and form a relationship and an element of trust through this two-way dialogue. You want to talk with customers, not at them.
Consistency, consistency, consistency
Consistency is key when it comes to your marketing materials. You want to make sure your customers can spot your marketing materials from a mile away. Go for a cohesive look through your print and digital platforms to keep on-brand with your marketing message. Consistency is how you are going to make an impact on potential customers and expand the reach of your marketing efforts. It's also important to make sure you're speaking the commercial producers' language in your marketing. A lot of times, we think about marketing as a vehicle: How do we get the info to the buyer (print, mail, online, etc.)? While that is an important part of your marketing plan, we also need to consider how we are communicating the value our genetics bring to the table.
Consistency is also important for other sectors of the industry that rely on seedstock operations. Raising seedstock is the beginning point of the supply chain. Your genetics trickle all the way down into commercial producers' feeder calves. Now more than ever, seedstock producers are setting the precedent for how cow-calf producers market their calves. Developing programs to help producers market their calves can help set your customers up for success. Cultivating relationships with reps and sale barn owners can help set your operation apart from the crowd in tough years like this one.
What's the takeaway for you?
Whether you're selling calves or genetics, all this advice boils down to is this: You need to support commercial producers and set their program up for success. When marketing, you need to consider what your buyer needs out of these cattle. Remember, buying and selling is a two-way street. Make sure your calves and your genetics are going to add value to their operation and create functional, productive cattle. Think of it this way: You can create the best typewriter in the world, but if everyone wants a computer, then nobody will buy your product, no matter how high-quality it is. The same goes for cattle.
Start conversations with commercial cattlemen and listen to what they have to say so you can cater to their needs as a source of genetics. Keep up-to-date on market reports to get ahead of the trends in the cattle market so you can meet your customers at the sale barn or through your bull catalog with their ideal product. Look at what's selling through video auctions and the sale barns. Stay consistent with your language and marketing materials, and don't be afraid to expand your customer base by meeting them through digital platforms.
At the end of the day, as a seedstock producer, you're working to meet the needs of commercial producers. If you're not meeting the demands of the current market, the value of your product will decrease. Listen and adjust according to the trends and needs of commercial producers. That's how you stand out from the crowd.
PHOTO: People want to get off the ranch and attend live sales. Photo courtesy of KRose Company.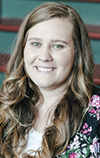 Karoline Rose

Owner/CEO
KRose Company