Many important aspects of the cattle industry revolve around numbers: birthweights, weaning weights, calving ease, milk expected progeny differences (EPDs), and the list goes on.
Often when it comes to marketing cattle – once print ads and catalogs are mailed out – there are no numbers. How can you keep track of return on investment for your ads?
Traditional marketing for your bull sale has challenges when it comes to tracking your return on investment. Think about how many sale catalogs come in the mail and end up in a pile somewhere on the desk, never to be seen again. Print ads and mailers have a valuable place in your marketing strategy when you focus on how to track them and make them part of your marketing puzzle. When paired with an online marketing strategy, it's possible to become incredibly efficient in reaching your customers and potential buyers as you start to let the numbers do the talking.
Diversify your marketing
Meet your customers where they are: online. Print ads have a meaningful place in marketing, but it's important to consider how you can boost your operation's exposure to make sure your catalog ends up at the top of the pile. This is where social media comes in. Where print ads fall short, social media ads step up to the plate. Print catalogs average $7-$12 each to produce and distribute, and although they can bring in customers, it's difficult to track your return on investment. An online presence for your operation can send customers to your website to view your catalog online for 30 cents per person. Additionally, social media and website promotion allow you to track exactly how many people view your catalog and provide valuable buyer information to help you target your intended audience.
Gaining customers through social media ads allows us to keep track of age, gender, location and how they found out about your sale. All these variables can be used to get your catalog in front of the right buyer. Online ads allow you to save some money without losing other aspects of your sale, while also reaching potential customers multiple times through various outlets. Think of social media as the bait capturing your customers' interests and giving them an idea of what to expect from your business. When your print ads come in the mail and they recognize your operation from online, your ad has a higher chance of being read instead of tossed to the side. A combination of online and print advertising helps ensure you're maximizing your exposure to potential clients.
Long story short, the next generation buying bulls and females from you will be on social media. A good place to start your operation's online presence is Facebook. If you are posting on social media, be consistent. Only posting during sale season leads to Facebook viewing your posts as "salesy," which limits views from users. Posting consistently year-round helps you stand out online. It's social media, not selling media. Be social.
Create a cohesive marketing plan
As you manage your online presence, it's important to keep all your marketing materials cohesive throughout these various marketing channels. There are many people involved in your marketing plan: a catalog designer, print advertising, website designer, social media manager, and of course, yourself promoting the sale. Each of these individual pieces need to be more than just good, they need to fit together like a puzzle. If one piece looks good but doesn't fit with the other pieces, the puzzle does not look complete.
Picture this: Your name has been removed from all of your marketing materials. Can your customers still tell those materials are yours? We want to see flow through all channels of marketing to create a cohesive brand for your operation. The look and feel of your catalog should match that of your print ads, and your Facebook cover photo should match your website. When your marketing pieces complement each other, it creates a cohesive look for your customers to keep an eye out for and allows each individual marketing piece to complement the others. When all the puzzle pieces fit together, you can see the full picture.
Quality photos and videos of sale animals are a worthy investment to set your animals apart from other sales. When using pictures and videos taken by an outside source, ask for original files to use on your online platforms.
Start marketing well in advance
Marketing your cattle begins long before sale day. You want to create buzz around your animals and get buyers in seats when it comes auction time. It takes about 21 exposures to your marketing to get a customer through the door. That sounds like a lot, which is why it's important to start marketing well in advance.
You can start by getting your sale date on your website and online platforms nine months prior to your sale. Your catalog should be featured on your website six months out from your sale. In the two to three months leading up to your sale, start promoting on social media. Remember, more exposure means more customers walk through the sale barn doors. The sooner you get in front of your target audience, the better chance you have standing out and making an impression.
What does this all mean to you?
How can your ad stand out in a noisy, cluttered marketplace? An online presence is key to establishing authority in the cattle industry. Websites are a necessity, and social media platforms like Facebook give you more opportunity to expose your operation and cattle to potential buyers. Social media can help you cut costs when distributing catalogs and provides you with valuable data to help create a more strategic marketing plan for your target audience in the future. A cohesive marketing plan allows customers to recognize your content without having to see your name. Keep customers on your website and social media. People get distracted when they go to a company with multiple sales; you want to keep their attention on your catalog.
When developing marketing content, keep traffic on your website and platforms – don't send customers to an outside source. Finally, start marketing your sale well in advance. As the marketplace gets loud with sale catalogs, you want to stand out and make an impression through your consistency and quality content.
PHOTO 1: Customers buy bulls from you because of you and the relationship they have with you.
PHOTO 2: Utilizing exceptional photo and video of your cattle and of your operation separate your ranch from others in a loud marketplace. Photos courtesy of KRose Company.
Linnea Langusch is a marketing assistant with KRose Company.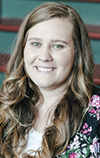 Karoline Rose

Owner/CEO
KRose Company