In the past couple of years, we have all had to adjust to the world operating differently. This adjustment on a global scale is somewhat similar to the period of adaptation people go through when they lose a family member.
The change requires a person to operate differently, and in ways that are not desired or welcomed but are necessary to move on to the next chapter.
When any family loses a loved one, adjustment takes an emotional toll, and all families must move at their own pace going forward. However, when loss occurs in a farming family, certain things have to move along, even if you aren't ready or prepared for them, because crops still need to be harvested, cattle still need to be fed, and the bank still needs the next note payment. This can be overwhelming, especially while still in the mourning period. An attorney can help you prepare for this untimely day through estate, business and transition planning, and then also hammer out the paperwork after a person's death through the probate process. But what about the time in between?
I can personally attest that after the sudden death of my grandfather and then also the sudden death of my mother, all in about six months' time, it can feel like no man's land. But as we all know, and as stated previously, the farm doesn't stop and those left behind must pick up and get necessary things done because when it is time to harvest crops or wean calves, it is just time.
Your way of moving forward may take a variety of paths based on your family dynamic and your place in family farm to date. You may have been involved in the day-to-day and feel like you understand the ins and outs of the farm, but still things will just hit differently after a death. You may have been working outside the family business and you're lost now. Or, like me, you were somewhere in between these two positions. Whatever the case, there isn't a rule book, but I have found through my professional and personal experiences in this realm that a working game plan and a whole lot of grace will get you through it.
First, ask all the questions and gather all the information you can while you still have those important people in your life. Encourage them to make an estate plan. Have the hard conversations you need to about the future. When those people are no longer around to answer your questions, hopefully you will be in a much better position with a plan in place to make the transition possible. After someone's death, start by gathering information so that, depending on your level of involvement or knowledge of the farm, you may piece together financial and logistical operations. Find phone numbers, documents, and ask for help. There will be a lot to do. Make lists and tackle the most pressing things first, and remember you can only do what you can do, and that is OK. I have to remind myself of that almost daily, even after about two years later, so give yourself a break. Celebrate all the accomplishments, big and small, from cleaning out a closet to calving out your first calf crop solo – this might happen during a historic winter storm which, spoiler alert, I 10 out of 10 do not recommend – but if it happens, be even more proud of yourself. Employ those you need to who can help you get things done you cannot complete yourself. This is not weakness; it is smart. This list would include people like fence help, a lawyer, an appraiser, a custom harvest crew and maybe even a house cleaner – whatever it takes.
Ultimately, do all the things they trained you for and never forget for one moment the lessons you received, especially in the situations where you wish they were there to give you at least one more. Agricultural families are resilient, but it takes more than hard work – and a hard head – to keep things in operation as it transitions to new generations. So plan for what you can, adjust when you must, and do the very best with the cards you're dealt.
Getty Images.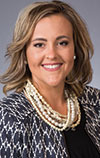 Stephanie Bradley Fryer

Attorney
Stamford, Texas