This article is part two in a five-part series. Be sure to read "Retaining talented employees" in the upcoming February issue.
The upper hand in the workplace has shifted – employees now choose employers.
Talented employees are in great demand and can relocate with ease. Seldom are great employees without work, so the recruiting process involves selling your operation and its mission to prospective employees.
The costs associated with recruiting and hiring a talented, productive employee are less than the cost and impact of making a bad hire. The cost of a bad hire varies by geographical location, ranch and responsibilities of the position. Bad hires involve lost productivity, a potential negative impact on established employee morale, and the time and expense to recruit, hire and onboard another employee.
Common causes of a bad hire include employer aversion to the recruiting and hiring process, rushing through the process to return to more pressing or preferred duties, settling for a candidate who is "good enough," insufficient applicant pool or lack of a well-written job description – one not reflective of position responsibilities.
Integrity is the foundation upon which great people are built and is atop the list of essential characters. If a candidate cannot check the high-integrity, high-moral standards box, keep searching. Zig Ziglar said, "Integrity alone does not make a leader, but without it you will never be one."
Following are some suggestions for ranch managers to consider as they continue to sharpen their employee recruiting skills.
Environment and culture
The most successful recruiters are preferred employers, meaning they create and continually cultivate a workplace where talented people want to work. Employees expect and deserve fair treatment. Every ranch has a reputation that is well-publicized on the informal but operative cowboy "network." Disgruntled employees and high-employee turnover are a detriment to attracting great new employees.
Being a preferred employer involves more than compensation and benefits. Sure, compensation must be competitive for the region and job responsibilities. Benefits (health insurance, housing, ranch vehicle, paid time off, etc.) add to the attraction. In addition, the work environment that attracts people is characterized by trust, fairness, mutual respect, transparency, positive attitudes and employers who put family first.
A business-like culture is enabled by providing autonomy, sharing information and offering professional improvement opportunities. Ranch-wide social gatherings can be an effective avenue to foster a positive culture and emphasize the importance of all employees and their families.
Clear, concise job description
A well-written, clear, concise job description is essential for effective communication during the recruitment, hiring, onboarding and annual evaluation processes. The description should list job title and responsibilities, essential competencies, and expectations for personal growth and professional development. Job descriptions should be reviewed during annual employee evaluations and updated as responsibilities and employee abilities change.
Use your network
Talented employees are a recruiting asset, so include them as part of the recruiting team. Regionally, the ranch-hand network is relatively small, yet the culture among cowboys varies greatly. Recruit as close to home as possible to minimize culture conflicts and adjustments.
Great talent attracts great talent. If a talented employee recommends a candidate, the employee's reputation is at stake. The recruit is surely of similar character and talent, and it is probable the two have and will work well together. Consider developing a recruiting bonus whereby employees are rewarded after a person they identify has been a coworker for six months.
Do not overlook the significance of social media – ranch website, Snapchat, Instagram, Facebook, etc. Job seekers will research the ranch – social media absence is a detriment to recruiting, especially among candidates less than 30 years old. Social media is an effective avenue by which to tell your preferred employer story. Posts from pasture rotations, branding, weaning, shipping, ranch social gatherings and off-ranch activities (ex. ranch rodeo) "advertise" the ranch and tell a story of natural resource stewardship, stockmanship and fellowship that attracts applicants.
A word of caution to job seekers: Employers are using social media to vet potential employees as well. Make certain your social media presence reflects positively on your character, integrity and passion for a career in ranching.
Year-round process
Effective recruiting is an ongoing process, even when all positions are filled. Think like a coach and identify a reserve of talent from which you can draw when a vacancy arises. Maintain ties with the appropriate university agriculture and natural resource management faculty, and be supportive of research and outreach efforts. Consider student internships and summer jobs as opportunities to evaluate young talent and expand your network.
Millennials are interested in "giving back" to worthy causes; participation with industry associations and their events is an excellent avenue by which to contact potential employees. Be involved in community activities that involve and support young people. Personally recognize employees and be complimentary of other ranches. Neighbor with ranches in the area, and do your best to make the neighbor's experience at your ranch more enjoyable than your experience with them.
While recruiting and interviewing candidates, make every interview a positive experience, even for the candidates who do not join the team. You never know when an unsuccessful applicant might be a recruiting asset.
Surely, the employment balance has shifted and the demand for talented employees will be greater tomorrow than today. Continually refining your preferred employer status and including these tips in your recruiting process will help identify and draw talented people to your ranch management team.
PHOTO 1: Moving cattle.
PHOTO 2: Ranch employees branding and tagging calves. Photos provided by Rick Machen.
Clint Richardson is the general manager for Deseret Cattle and Citrus.
Part 1: When those your supervise are your senior.
Part 3: Retaining talented employees
Part 4: Evaluating employee performance
Part 5: When time for termination comes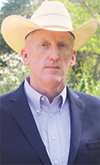 Rick Machen

Professor
King Ranch Institute for Ranch Management