This article is part three in a five-part series. Be sure to read "Evaluating employee performance" in the upcoming March issue.
Ranches are a collection of valuable resources – land, natural resources, livestock, equipment, infrastructure – and human resources (i.e., your people). How management deploys these assets is key to an operation's success. It is actually the decisions and actions of talented people – i.e., your key employees – that matters the most for building value from ranch operations.
In fact, retaining talented employees is an essential element for long-term success of any business. This was the idea embraced by famous 19th century industrialist Andrew Carnegie, who once said, "Take away my factories, plants, railroads, ships, transportation and money; strip me of all of these but leave me my key employees, and in two or three years, I will have them all again."
Having leaders, whether owners or managers, who are both trustworthy and approachable is a prerequisite for motivating talented employees to develop their potential. With good leadership, talented employees can become key to the operation's success. Without attention to the matter, keeping these key employees engaged can become a challenge. As a supervisor, retaining your key employees either needs to be a priority or else you will risk losing them to what they see as better opportunities.
The process of retention starts on day one. Too often, once a vacancy is filled, managers (and employees) default to their daily duties and assume the new hire will "figure it out." Hence, this discussion begins by stressing the importance of the onboarding process.
Onboarding
Just like life for a newborn calf, the start is critical for success. Effective onboarding is a team effort involving management and new co-workers. Management demonstrates interest and investment in a new employee by leading/guiding the onboarding process. Co-workers should exhibit a teamwork environment by helping to familiarize the new hire with ranch culture, stockmanship practices, routine procedures, infrastructure location and maintenance, and pasture orientation.
First impressions matter. If you provide on-ranch housing, be certain it is in good repair and clean. If providing a pickup, make sure it is clean, fully equipped and ready to use. Have a well-defined plan for the first day (or week) of employment that engages the new employee in activities in which they are proficient. This builds confidence. Pair a new hire with another key employee as a mentor. Make sure the mentor subscribes to the idea that their goal is to keep the new hire motivated. As was noted in a 1966 Madison Avenue advertising slogan: "You never get a second chance to make a first impression."
Communication
Effective communication does not happen by default; it requires continuous and conscious effort, which is often overlooked by those accustomed to working alone or in very small groups. For example, promotion of a camp or unit manager to foreman or general manager should (at least initially) be accompanied by coaching/encouragement relative to communicating well. As a leader, you risk losing good people if you fail to communicate to them that their work matters for some purpose other than a financial statement. In other words, key employees are more likely to stay when they realize their work means more to them than just a paycheck.
Self-direction
Most talented employees appreciate the challenge of having some independence in how they execute their duties. This is counter-balanced by making sure they understand and subscribe to a common purpose or mission that is bigger than their own job. In this way, they know they are part of a team, but they have the advantage of being somewhat self-directed. This latter point is especially important in ranch settings where employees tend to be in isolated locations. Be aware that most of your high-achievers still appreciate you inspect their work – how else are they to know you have a reason to appreciate and then acknowledge what they accomplish? "When we tell people to do their jobs, we get workers. When we trust people to do their jobs, we cultivate leaders." (Simon Sinek)
Development opportunities
If an employee is capable of and desires to grow professionally, providing them an opportunity to take on a larger role within the operation will encourage them to stay. If matched well with an employee's potential, opportunities such as continuing education and training programs can motivate performance and help ranch employees reach their potential – and these opportunities can often be viewed as a reward or preparation for promotion.
Recognizing an employee's desire to advance professionally and assume larger responsibility is the manager's duty and often results from listening to the employee – especially during the annual performance review/evaluation. Coach employees when you can. When you can't, pair them with a mentor who can.
Work-life balance
Every company employee (including the president, CEO and general manager) deserves the opportunity to enjoy a balance between family and work. In this balancing act, family deserves primary consideration. Surely and without exception, the work must be done. Where safe and appropriate, do not overlook opportunities for family to be involved with the employee, but do not expect family to be "free" help.
The work-life balance concern often focuses on employees with young families. Rightfully so – never will a parent look back and say, "I wasted that time invested in my spouse/children." However, they will likely regretfully reflect, "Wow. I missed that opportunity to spend time with my spouse/children." Management is not responsible for organizing employees' personal life, but the opportunity to "get it right" ought to be afforded as often as possible. Yesterday affords no second chances.
Compensation
Readers may wonder why compensation concludes (rather than initiates) this article. In our experience, if employers do not address the issues previously mentioned, employee longevity is compromised. In such cases, compensation often becomes a "Band-Aid" that attempts to cover a larger problem. "If I offer her/him more money, they will stay," or "I have to pay more than average for the area just to get help (because we are not a preferred employer)."
Employees should be compensated fairly and at a level they can comfortably provide for and entertain their family. In that regard, no two employees are the same. Determining what "providing for" and "entertaining" look like or cost is a decision management should leave to the employee. Reward through promotion and pay is most effective when granted as part of your acknowledgement of good performance. Knowing when and how to give and reward these opportunities takes some experience. Providing employees with greater responsibility should be considered only when they have mastered the challenges of their current work.
Labor is and will remain among the top three great challenges for business managers. Recruiting and retaining exceptional employees may never be more challenging than it is today. Ranch ownership/management should pay high-performing, talented employees as much as the business can afford. According to Andrew Carnegie, retaining them is a secret to success.
Getty Images.
Neal Wilkins is president and CEO of the East Foundation.
Part 1: When those your supervise are your senior.
Part 2: Ranch employees - Recrutiting the right kind.
Part 4: Evaluating employee performance
Part 5: When time for termination comes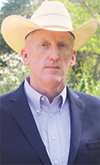 Rick Machen

Professor and Paul Genho Endowed Chair
King Ranch Institute for Ranch Management
Texas A & M University – Kingsville