Knowing which cattle to bring into the largest feeding company in the beef industry isn't based on algorithms and vast caches of data, according to Tony Bryant, manager of research at Five Rivers Feeding.
Mostly, it comes down to a simple plan involving health, quality grade and productivity. Bryant, who manages Five Rivers' 100,000-head Kuner feedlot in Kersey, Colorado, told audience members at the National Red Angus Convention, Sept. 10, that production values must work in tandem with market demands from consumers.
"A lot of the time, we get caught up focusing on quality grades, but really it's performance that pays the bills for us," said Bryant. "How efficient those cattle are and making sure they're breeding for it, I think there's going to be continuing pressure on that."
Five Rivers has 11 feedyards in six states with 900,000-head total capacity, which requires Bryant and other managers to buy and sell approximately 30,000 head of cattle per week. Given that volume, Bryant shared what feeder cattle work best and with what stages of preconditioning before going into the feedyard.
Quality
With Prime and Choice grades now hitting 85% levels in some CattleFax data, Bryant said producers have pushed those levels heavily in just the past decade.
The market also continues to push for that quality, and price isn't an obstacle for many consumers with growing disposable income. Bryant said the demand for natural brand cattle that also qualify for non-hormone treated cattle (NHTC) adds key value to those targeting double certification. In the past year, premiums have gone from $4 to $12 per hundredweight (cwt) using those certifications.
But those market values do have additional costs for feeders.
"Typically the higher-graded cattle don't perform as well," Bryant said. "We have lower average daily gain, worse feed conversions – or how many pounds of matter it took to make that gain, and overall cost of gain is higher."
Health
The industry shortage of feedlot labor requires managers to select healthy cattle that won't overburden pen riders. So health vaccinations and preconditioned cattle will pay off for cow-calf producers targeting good feeder buyers.
Bryant said Five Rivers uses its prevention and vaccination goals toward multiple rounds of vaccines.
"We're a big proponent of two rounds of vaccine. It's not just a viral, it's a combination of viral. It's got BVD, BRSV, PI-3, IBR and also got the bacterin for mannheimia and pasteurella.
Through the years, we've learned quite a bit in these natural programs on what works. So we went from just giving the viral, and then we give one round of the bacterin too. It's amazing the difference that's come out by giving one round of two of these on the health of the cattle once they're in the feedyard."
Weaning
Stress management for new calves will be more consistent when livestock are bunk-broke for a greater period of time. "Weaning's a big deal. The longer you can do it, the better. We just tend to have better success the longer cattle are weaned."
Bryant says calves weaned more than 60 days see a significant rise in health and performance than those weaned 45 days or fewer.
"It's incredible the amount of difference in those 15 days, and you give them enough time before arrival. It makes a huge deal in taking stress off those calves."
Bryant said the length of weaning also incentivizes producers to precondition those calves for the bunk, with calves weaned over 45 days equating to $916 per head compared to $836 per head on those weaned 28 to 45 days.
Heterosis
Bryant said balance in genetic traits for commercial cattle means mixing growth plus carcass quality and commonly includes Angus-Continental mixes.
Bryant said selecting cattle with baldy crossbred genetics helped cut one herd's health problems in half.
"We've starting buying these Charolais-Angus crosses, and I love them. We don't get a [Certified Angus Beef] premium, but their performance is way better.
What to avoid
Bryant said producers who build a single-trait focus or stick with one genetic line from a sound bull may end up seeing some issues: "some of those unintended consequences to be mindful of in your breeding choices and not put eggs in one basket."
Bryant also said animals are coming in too big, which creates issues in animal safety, less feed efficiency and cleanliness with more manure production.
"We get these animals coming in weighing 950, and they don't convert so well," he said. "But that's the trend, and it's going to be hard to stop that because of incentive to total pounds and revenue. It's not efficient, and they don't yield much, and for the feeder, there's so many things we've got to deal with."
The ideal feeder cattle weight, Bryant explained, falls between 700 to 800 pounds, although Kuner's averages right now hover at 850 pounds.
"The heavier animals get, the less efficient they get to, they just have to maintain a heavier bodyweight. Energy consumption goes toward maintaining that bodyweight versus growth. So we're wasting a lot of feed just trying to maintain that animal's weight."
PHOTO: Tony Bryant speaks to attendees of the National Red Angus Convention in Dubuque, Iowa. Photo courtesy of Red Angus Association of America.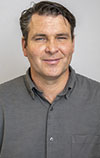 David Cooper

Managing Editor
Progressive Cattle