An important issue at the forefront of agriculture is succession planning. Agriculture and the beef cattle industry take great pride that the highest percentage of farms and ranches are family-owned.
Generation after generation has worked hard to be sustainable, providing an opportunity for future generations to carry on this tradition.
The transfer of assets from one generation to the next is more complicated than ever before due to advanced technologies, increased operation size, and comprehensive legal and financial regulations. While the senior generation is the foundation of the succession process, the young and future generations have a critical role in the transition as well.
Three young cattle producers who have experienced or currently find themselves undergoing the transfer process shared with me lessons they learned, ideas they have for their peers and leadership skills they have developed.
Where to start
Paige Pratt, a 37-year-old cattle producer from Virginia who originally grew up on a ranch in east-central Kansas, has witnessed succession as both a daughter and a daughter-in-law. Both sides of her family have experienced preparing for the next generation. "It all starts with having the discussion of how to proceed, but if your parents or in-laws are not ready to have that discussion, everything stalls and you have to take a closer look at what this means to you and should you stay."
Pratt and her husband, Jason, found themselves having to walk away from their goals until the parties involved were ready to talk transition. "If the asset-holding generation does not have a plan, then as the younger generation, your role becomes that of an employee and should be structured that way until the process is ready to move ahead."
Forty-three-year-old Kansas Angus seedstock producer Matt Perrier from Eureka is currently walking through the transition steps with his father. Perrier recalls what his parents experienced when they were working to buy the ranch from Perrier's grandparents. "It was a challenging situation, thus my parents have worked diligently to structure the ranch to make the next transition less stressful."
In fact, it was Perrier's parents who encouraged him and his wife, Amy, to attend succession planning workshops to gain baseline education on the topic shortly after they returned to the ranch.
Forty-one-year-old Paulina, Iowa, cattleman Dustin Puhrmann has watched many of his peers experience farm successions and, while his dad worked through it with his grandparents, the next phase of the transition is still in its infancy. Puhrmann hopes to be the fourth generation to carry on this century farm raising commercial Angus-based cows and a backgrounding operation.
"I'm very concerned about the immense amount of capital and equity it takes to operate today," he says. "Unless a young person can get a helping hand, it's very difficult to make farming or ranching your main livelihood. I understand buying a few cows and building slow is a way to get started; I'm not sure you can make it sustainable without help or luck."
Lessons learned
Communication
All three of these young cattle producers say communication is the number one lesson they have gained.
"We think we are communicators, but do we communicate at the level we need to for an issue as important as passing on a family ranch?" Pratt says. "Our succession facilitator continually emphasized the importance of communication, and it was then I realized: If you don't put it into place or put in time and effort to change (and everyone has to do this), you can't move to the next step."
"Communicate, communicate, communicate," Perrier says. "All the attorneys' fees and estate plans in the world won't work if family members don't periodically discuss the steps and process. Discussing how it's going, and if anything needs to be altered to fit changing times and roles, has to be done regularly."
Mentors
"Once we bought some of the cattle and land, we thought, 'OK, now this part is ours, and we are going to run it the way we want to.' My husband and I later realized we were shutting out his parents, a generation who wanted to provide mentorship to us," Pratt says. "Looking back, we realized seeking mentorship and leadership from the elder generation was critical to work through a succession plan."
Puhrmann, along with his dad and brother, have attended succession planning programs conducted by Iowa State University. "It was eye-opening to see ISU report 26 percent of the state's farmland is owned by retired farmers. Producers over 65 own 60 percent of the land, and producers 35 years or younger own less than 2 percent of the state's farmland."
Value others
"It's important for the younger generation to understand the generation ahead of us does want to see their cattle operations succeed into the future, and difficult decisions are made in an effort for that to happen. Sometimes mistakes are made unintentionally," Puhrmann says.
"You must value the role of everyone in the family structure," Pratt says. "Especially those less involved or who work off the farm; they are still a partner, even though a non-managing partner. Take an interest in family members who work off the farm because they have ownership through marriage, and not everyone can have a daily role on the farm or should if they have skills to be used in other professions."
Advice for peers
For these three next-generation cattle producers, being a leader in the cattle industry is their goal, and sharing advice with their peers is part of helping their industry be successful and sustainable.
What do you bring to the table?
"As young people, we are eager to come back from college and immediately want a piece of ownership, but what we need to figure out is what value or benefits we bring to the operation," Pratt says.
Perrier's parents encouraged all three of their children to get a job away from the ranch after they finished college. During this time, Perrier worked for nearly a decade in several positions in seedstock and beef promotion. "When I returned to the ranch, Dad immediately turned over the marketing and customer service tasks to me.
After a couple of years, he did the same with the genetic selection. All the while, I was providing daily labor, but as I got my feet on the ground, Dad also had me take on more management responsibilities."
Figure out what works for you
"Our family has sought some input from succession planning specialists, but our greatest focus has been on what works for us," Perrier says. "We have developed a plan which is personal to our family, and then we hired an attorney to put all the correct legal components into the plan."
"Research the steps and learn as much as you can," says Puhrmann. Tax and transfer laws in his state impacted how his family could pass on the family farm. It took time and patience to work through these regulations. This, along with getting everyone across the generations on the same page, is no doubt challenging, and the bottom line is to determine whose it is to give to whom.
Run it like a business
Perrier states, "Don't go to an attorney or consultant and simply say, 'Write us an estate transfer plan.' Each family is different. Each business is different. Talk through what both generations want to happen (including timelines); then hire a consultant, attorney or financial planner to write up how it can/needs to work."
You can't pass on a business run out of a shoebox or your head, Pratt learned. Develop a roadmap so no one is left in the dark. Outline who is responsible for what, put finances down on paper so they are measurable and openly share how financial compensation, vacation time, etc., is allocated.
From their experiences, Pratt, Perrier and Puhrmann realize it is impossible to walk in the shoes of the generations before them, yet challenging to know how to help. "Fair isn't always equal, and equal isn't always fair," Puhrmann says.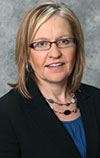 B. Lynn Gordon, Ph.D.

Consultant/Ag Writer - LEADER Consulting
Sioux Falls, South Dakota