Profitability of cow-calf operations is largely determined by cow reproductive performance.
The percentage of cows calving, and the percentage of cows calving early and weaning older and heavier calves, are the primary factors influencing both total income and unit cost of production.
Cows calving early also have more time to rebreed and are more likely to remain early calving and more productive cows throughout their lifetime. Consequently, the goal for most herds is to have a high percentage of cows wean a calf and for most of those calves to be born early in the calving season.
Nutrition plays a key role in herd reproductive performance as a low level of nutrition before calving can lengthen the interval from calving to first estrus and reduce the percentage of cows cycling early in the breeding season.
After calving, a low level of nutrition can reduce the overall pregnancy rate by reducing the total number of cows which cycle and by reducing the likelihood of pregnancy among cycling cows. Good nutrition before and after calving is essential to good herd reproductive performance.
Cow body condition is a simple and effective way to monitor the nutritional status of the herd. Within the herd, cow nutrient requirements vary according to age, weight, stage of pregnancy and milking ability. Cow body condition reflects how well available feeds and feeding levels are meeting those individual needs, and changes in body condition can be used to help manage feeding and grazing programs.
The key factor influencing cow reproductive performance is body condition of cows at calving. Cows which calve in good body condition give birth to healthier calves who have a better chance of survival, tend to produce more milk and wean heavier calves. They are also more likely to rebreed early and remain a productive part of the herd. To improve herd reproductive performance, ensure a high percentage of cows calve in good body condition.
Cows that are in good condition leading into winter have a better chance of calving in good condition. Nutrient requirements increase significantly in the last trimester of pregnancy and young cows have additional requirements for growth, so there are additional feed requirements for cold stress. Most winter feeds cannot meet these requirements and build body condition, so there are many winter days when cows must draw on body reserves to meet requirements, resulting in a loss in body condition.
Fall is a great time to build cow body condition. Cow nutrient requirements are relatively low, as cows which are in the early stages of pregnancy are producing little or no milk and there is less cold stress. At the same time, abundant and relatively low-cost forages are available. Mature native range, meadow regrowth, cornstalks, grain stubble or straw can all play a role in a fall grazing or feeding program. Making good use of fall forages is not only important for improving cow condition but can also help to lower total feeding costs.
Cows are well-equipped to harvest and process forage, but they need some help to make good use of many low-quality fall forages as they do not provide enough protein to sustain the microbial population in the rumen. When this happens, forage digestion and forage intake decline, as well as the yield of total digestible nutrients.
Mineral and protein supplements help grow rumen microbes and increase the digestibility and intake of forage. When protein supplements are self-fed they can also help improve grazing distribution, enhance diet selection, increase grazing time and consequently increase total nutrient intake.
Protein supplements on fall forages are especially helpful to first-calf heifers. These young females are still growing and are often having a tough time competing with older cows in the herd. Proper nutrition of young females helps to protect the investment which has already been made in developing these replacements and helps ensure they will remain a productive part of the herd.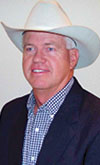 Butch Whitman

Beef Nutritionist
Hubbard Feeds