Increasingly, beef producers are re-examining timing of their calving seasons.
Shifting a spring-calving season later in the spring to match forage production is the most common change; however, more producers are considering moving to fall calving or adding a fall-calving herd.
Studies from Arkansas, Louisiana, Oklahoma, Tennessee and Texas comparing spring and fall calving indicated that fall calving may increase calving rates and calf survival. However, fall calving was not always better than spring calving. Fall calving is more common in the Southeast (SE) and Southern Plains (SP). In these areas, hot summers combined with high humidity (SE) or drought (SP) reduce fertility in cows and bulls during the breeding season. In some areas with endophyte-infected fescue, the negative effects of the endophyte are reduced in fall. Fall-calving cows calve in better body condition and return to estrus earlier than spring-calving cows. In addition, weather stress is greater on spring-born calves.
Cow-calf operations in Northern climates are also looking at fall calving. Several Northern producers I worked with over the years, from Minnesota to Idaho, have found advantages in fall calving. In addition to increased calving rates and calf survival, work from Idaho demonstrated that fall calving may offer some range management benefits by reducing pressure in riparian areas in late summer.
Overall, operations that had success with fall calving had several things in common:
They conducted an economic and marketing analysis first.


They switched to or added fall calving without a significant impact to cash flow.


Cow nutrition, pregnancy rate and weaning rates were improved.


Marketing of calves was shifted to take advantage of early summer grazing.


They were willing to alter other aspects of management.
Economic and market analysis
There are multiple economic variables to be considered when moving to fall calving. Seasonality of calf prices is key when determining potential income advantage to fall calving. Multiple resources are available including extension publications, USDA market information, CattleFax and the Livestock Marketing Information Center. It is critical to use data from the region of the country where cattle will be marketed. When looking at prices and marketing options, include not only the weights and months when weaned calves would be marketed, but also consider weights and months for calves that have been backgrounded 60 days and even yearlings.
Culling rate, cull cow value and replacement rates need to be estimated for the change in calving season. Cull cow prices are higher during May through early September versus other times of the year, which adds value to open fall-calving cows.
Feeding lactating cows and larger calves during the winter will increase feed needs, resulting in a negative impact on operating costs. However, these increased feed costs may be offset by reduced labor at calving time and increased calf survivability. Most state extension services have cow-calf budgets that can be used to estimate costs and returns. If your state does not have budgets for fall-calving operations, then try to find budgets from a university in the region.
Don't forget to consider the effect of change of calving season on taxes, including depreciation and capital gains. In addition, if there is a change in operating loan payments or additional loans for cattle purchases, alterations to debt payments need to be considered. Economic comparison among these endeavors may be done by using partial budgets. Sharing your economic analysis with your lender or accountant may be beneficial.
Limited impact to cash flow
One of the greatest challenges of moving from spring to fall calving is how to minimize the impact of change of calving season on cash flow. Roughly, there are five different options for transitioning from a spring- to a fall-calving herd. Each one has different impact on cash flow and taxes.
1. Sell spring-calving herd; buy complete fall-calving herd.
2. Delay breeding of entire spring-calving herd.
3. Delay breeding heifers for fall calving.
4. Buy enough fall-calving cows/heifers each year to replace a portion of the herd; sell all calves and don't keep spring-calving replacements.
5. Buy open spring-calving cows in the fall.
6. Some combination of 1 through 5.
Option 1 has the least impact on cash flow as far as calf sales. In fact, it usually results in the marketing of two calf crops in a seven- to 10-month period. When the spring-calving herd is sold will impact labor and feed supplies. Of course, this results in the most dramatic change in management.
In contrast, Option 2 creates the greatest delay in calving. The delay may be as great as 16 to 20 months. Most operations cannot tolerate this great a disruption in cash flow. Therefore, most operations transition more gradually.
Options 3, 4 and 5 transition gradually to fall calving, which allows for a go/no-go decision before the entire operation is converted to a new calving season. However, these options create some disruption in cash flow, as calving is delayed in a portion of the cows. Option 5 creates the most risk, as open cows may be someone else's reproductively inferior cows.
The exception would be 2- and 3-year-old cows that were open due to nutritional mismanagement. These more gradual transitions to fall calving create additional strain on labor and feed resources, as two calving seasons need to be maintained during the transition period. However, many operations use these methods until 50% or more of the herd is converted to fall calving, then they sell the spring-calving herd and purchase the remaining fall-calving cows.
Improving cow nutrition and weaning rates
In general, fall-calving cows enter the calving season in greater body condition than spring-calving cows. Going through the summer as dry cows allows cows to build body condition. Cows in body condition score (BCS) 6 or 7 cycle more rapidly than spring-calving cows in BCS 4 or 5. Producers can take advantage of the improved reproductive performance by tightening the calving season to 45 or 60 days, resulting in a heavier, more uniform calf crop.
Without a doubt, one of the best parts of fall calving is the reduction in labor associated with calving and increased calf survival. No more calving checks in below-zero, snowy weather in the North or the cold rains of spring in the South. Losses to hypothermia are almost eliminated, with the exception of some unusual rain or early blizzard events. Because calves have greater vigor and are less stressed, they may consume colostrum earlier and in greater amounts. Between the reduced environmental pressure and possible enhancement in immune function, fall-calving herds tend to realize a 2% to 5% increase in weaning rate.
Shifting marketing
Most operations capitalize on fall calving by shifting from marketing calves at weaning to marketing weaned calves or yearlings. Weaning calves in early spring and taking advantage of cheap gains and high growth rates on summer forage is a key strategy. Seasonal price highs for 700- to 800-pound calves are July through September.
Altering management
The major adaptation in management is to determine new strategies for the grazing and forage program. Carrying a lactating cow and her calf through the winter may require an additional ton of hay in Northern areas. This increase in hay needs can be offset by better use of the spring flush of forage, reduced heifer development costs and utilizing rougher grazing for cows in the last trimester.
It is important to take a fresh look at the forage resources and how they might be used to the greatest advantage. For example, grazing cow-calf pairs on hay aftermath in the fall can reduce fall and early winter feed costs while allowing cows to rebreed successfully. In Southern areas, the use of annuals or overseeding pastures with ryegrass may be an option.
After the breeding season, fall-calving operations may want to reconsider trying to completely meet the nutritional needs of the cow-calf pair. This must be done very carefully.
However, a cow in BCS 7 can afford to lose 1 BCS by spring without suffering ill effects. Cows need to be body condition scored regularly and diets changed if needed. Allowing calves access to higher-quality forage either through creep grazing (South) or creep panels to high-quality hay (North) may offer a method to reduce feed costs to the cow while maintaining calf growth and health.
Making such a dramatic fall-calving change to a cow-calf operation may offer benefits, but is not without risks. Time spent planning and analyzing will be greatly rewarded. Visiting with other producers in your area who calve in the fall is an excellent method to gather information and ideas. Working with a team including extension professionals, nutritionists, lenders and financial advisers on a transition plan will pay dividends.
PHOTO 1: With less environmental stress and possible boosting of immune function, fall-calving herds tend to realize a 2% to 5% increase in weaning rate.
PHOTO 2: Without a doubt, one of the best parts of fall calving is the reduction in labor associated with calving and increased calf survival. No more calving checks in below-zero, snowy weather in the North or the cold rains of spring in the South. Losses to hypothermia are almost eliminated … Staff photos.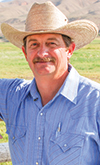 John B. Hall

Extension Beef Specialist
University of Idaho