Advanced reproductive technologies have helped the cattle industry make great strides in herd improvement – getting more calves from the best cows and making faster genetic progress.
But at what cost?
Traditional superovulation, flushing, embryo transfer (ET) and in vitro fertilization (IVF) reproductive techniques require costly, stressful and labor-intensive injection regimens, not to mention the need to transport and board animals at a central location for the necessary procedures.
Today's livestock production methods are under a microscope when it comes to animal welfare. With that in mind, is there a better and more humane way for cattle producers to achieve the same – or better – reproductive results?
A method of IVF growing in popularity uses an all-natural approach, eliminating the need for follicle-stimulating hormone (FSH) shots for donor cows. Using this simple process developed by Vytelle, certified veterinarians or reproductive specialists come to your operation for oocyte pickup (OPU) and again to implant the resulting embryos into recipients.
This approach is much easier on the animal because it eliminates the stress of hormone treatments and trucking cows from place to place. It's also less expensive, making advanced reproduction more practical and cost-effective.
Why not FSH?
As an industry, we often misunderstand the purpose of FSH in advanced reproduction. FSH is a naturally occurring hormone that stimulates the growth of follicles in the ovary before the release of an egg at ovulation. FSH sometimes is thought necessary to increase egg production for ET and IVF procedures. In fact, FSH does not increase the number of oocyctes, or eggs, the cow produces. FSH simply increases the size of the follicles on the ovary so eggs are more visible and easier to collect.
With the Vytelle process, FSH is not necessary for effective egg collection. Field trials show no difference in the number or quality of eggs collected using this process, compared with eggs collected after animals are given FSH.
For the past five years, Humphreys Farm and Ranch in Grandview, Texas, has relied on the non-FSH procedure exclusively to build a foundation Hereford herd. Herdsman James Holder appreciates a more flexible and natural approach to IVF.
"We don't have to adhere to timelines due to shots or setup schedules. My donors stay in their pastures until collection day. No living in pens and going through chutes over and over. You can't get more natural than that," he says.
Collecting eggs without the use of FSH has multiple benefits, beyond reducing stress and handling of the animal.
One benefit is more frequent and earlier oocyte collection. Technicians can collect additional eggs from the same donor cow as soon as seven days after the first collection. Because the process does not require hormone treatments to set up donors for OPU, any female in the herd can be a qualified donor, including lactating cows, heifers as young as 6 to 9 months of age and pregnant animals.
16 calves by 25 months of age
Earlier and more frequent egg collection has helped Humphreys Farm and Ranch quickly maximize the genetic potential of its elite females. In fact, through non-FSH IVF, one high-genetic-potential heifer had 16 calves on the ground by the time she was 25 months old.
"The ability to collect eggs every two weeks, especially while she is bred, keeps her functioning as a normal cow while still maximizing embryo production," Holder says. "This means our donors have natural calves, plus a set of ET calves, by two years of age."
How the process works
The non-FSH IVF process starts on the farm, where a trained and certified veterinarian or reproductive specialist collects the unfertilized oocytes from the donor animal(s). Often, veterinarians can collect eggs during routine herd health checks, when cattle are already in headlocks or a chute. The OPU procedure uses an ultrasound-guided transvaginal device and small needle to draw out follicle contents. It takes an average of 12 minutes per donor, depending on the farm setup. This collection method is extremely safe with low risk to the animal.
After collection, the technician returns to the lab where eggs are washed, cleaned and counted. Eggs can then be mated to one or multiple sires, according to the producer's specifications.
The process from egg to embryo takes seven days. Embryos are developed in a proprietary culture system that results in high-quality embryos. Developed embryos can be implanted directly into qualified recipients or frozen for later implantation, although fresh embryos generally produce better results.
On the day of implantation, embryos are transferred into recipient animals with matching estrous cycles. The technician checks all recipients for an adequate corpus luteum (CL) before implanting an embryo, enhancing the chances of a successful pregnancy.
AT Brahmans in Honey Grove, Texas, has more than doubled its ET pregnancy rate using this reproductive system.
"Within the past year, we've started using non-FSH IVF for all our embryo transfers. With our previous ET system, conception rates were in the 20 percent range. We're now achieving a 45 to 55 percent average conception using both fresh and frozen embryos. We have been very pleased, not only with the production, but with the simplicity and lack of stress and time spent for both cattle and people using this non-FSH process," says Garrett Thomas, AT Brahmans ranch manager.
Opening new genetic opportunities
This simple, natural reproductive technology opens new opportunities for seedstock producers to advance herd genetics. With hormone-free OPU, producers can collect eggs more frequently, potentially doubling or tripling the number of calves from genetically superior cows – fast-forwarding genetic improvement.
Just as important are the benefits of a more animal-friendly reproductive management system. As livestock stewards, we must work together to address the animal care demands of consumers and the supply chain. Reducing cow stress from multiple injections and frequent handling is a positive step to reinforce our dedication to animal well-being.
PHOTO: Cynthia Wise, Vytelle veterinarian, preps a donor animal for oocyte collection. Photo courtesy of Vytelle.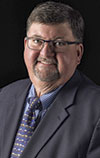 Michael Bishop

Director of Strategy
Vytelle